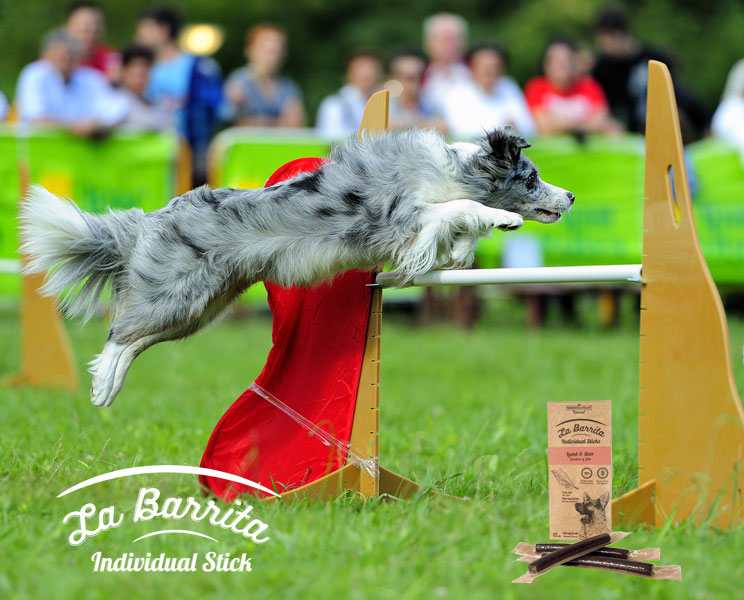 Mediterranean Natural products with liver are the ideal complement for the most active pets. They are Nutritive, and  have high levels of iron and protein.
Why does active dog need more iron and nutrients?
As in humans, when a dog performs a prolonged physical exercise, it increases the energy waste and its performance and physical form will depend directly of the consumption of nutrients.
If our dog is not well nourished, he will not give up on his activity and will not recover after it properly.
In addition, a prolonged physical exercise reduce the iron reserves of the organism.
Hemoglobin (essential in the transport of oxygen to tissues) and myoglobin (transport of oxygen to the muscle) are essential proteins in physical activity, because muscles and tissues need oxygen to function properly.
Iron is part of the molecule of hemoglobin and myoglobin. It is fundamental to generate energy in physical activity.
A dog with high activity will therefore need more oxygen supply to muscles and tissues (greater need for iron) and more energy supply (nutrients).
Why Mediterranean Natural Snacks with Liver are the ideal complement for dogs with high activity?
Because, combined with a nutritious and quality food, they provide our pets with all they need when performing long physical exercise.
Mediterranean Natural snacks with liver have a high nutrient content, which provides the dog with energy.
Pork liver is a natural and good source rich in iron, which will help our dog have sufficient reserves for better physical performance.
In addition, the iron provided by Mediterranean Natural liver snacks, being of animal origin, is better absorbed by the body than if it were of vegetable origin.
Our liver snacks contain protein of high biological value, essential nutrient in the yield and that, being of high quality, also favors the better absorption of iron.
They are rich in phosphorus and vitamins of group B, including vitamin B12, which produces hemoglobin, helping to improve the transport of oxygen to tissues during physical activity.
We must add that Mediterranean Natural snacks are gluten free, artificial colourants free, GMO free, Trans Fatty Acids free and are made with 100% raw material of first quality and Spanish origin. Enriched with oregano oil, facilitate their digestibility and, being semi moist and very tasty, they have a high palatability.
The formulations have been prepared together with the Food Research Team of the Department of Physiology of the Faculty of Biology (University of Murcia), which certifies them and supervises our production process.
What are the snacks with liver of Mediterranean Natural for high activity dogs?
1.- La Barrita, lamb and foie:
Delicious Premium Dog sticks made with 72% fresh meat. Individually vacuum packed the same day of its manufacture, which allows that after opening are always fresh and do not stain or emit smell when carrying them in the bag or pocket.
It is the perfect snack to go for a walk or exercise with our dog, besides being an ideal food supplement for its proteins (high biological value).
It comes in boxes of 12 units (150 grams).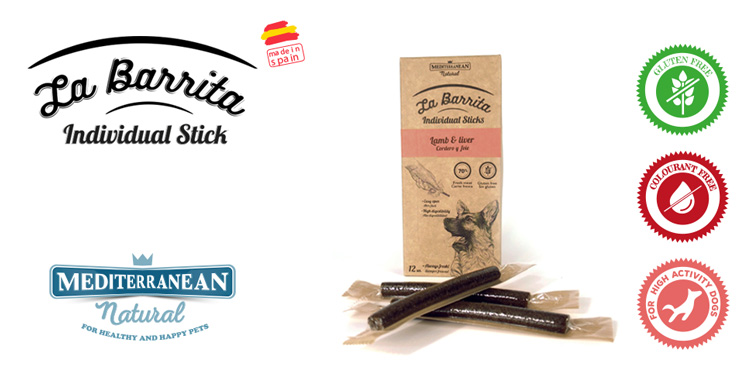 2.- Serrano Snacks with foie:
Serrano Snacks with foie of Mediterranean Natural, presented in small amounts with bone shape, guarantee the safety of the pet, maintain its purity and all nutrients, reflect the natural diet and contain 70% fresh meat.
They are the perfect snack to reward the dog's behavior. Ideal in training and sports as agility.
It comes in 100 grams bag.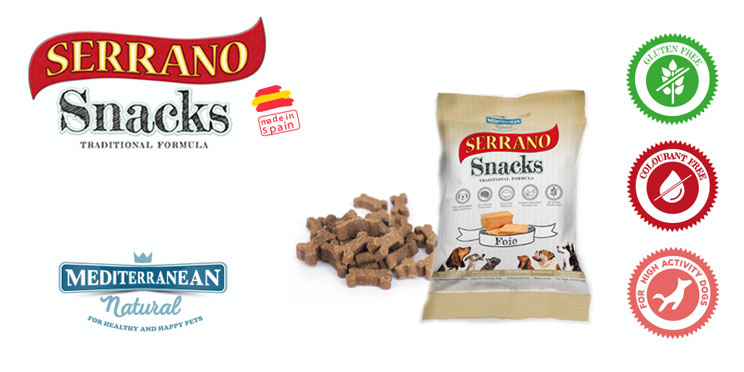 3.- Ibericas Sticks with foie:
Delicious sticks made with 70% fresh meat and vacuum packed and modified atmosphere to preserve the aroma and flavor in perfect conditions.
By their quality, they are the best daily reward for the dog, besides being the ideal complement in its feeding by the vitamins and minerals that contribute.
It comes in boxes of 70 units (900 grams).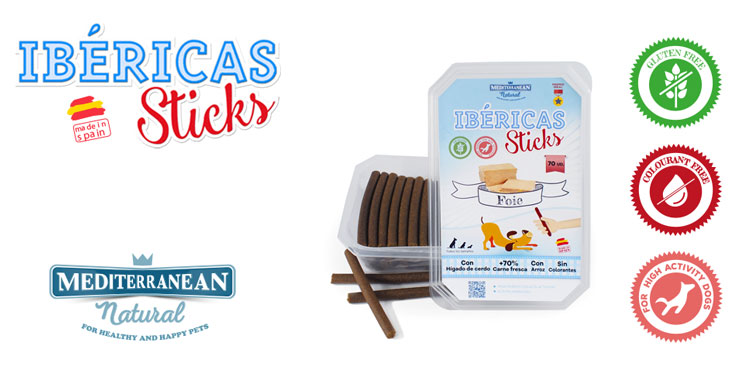 What do you think about our liver snacks? Have you used any of them to reward your dog in his physical activity?
If you need information about where our products can be purchased in your country, write to us at marketing@mediterraneannatural.com indicating your country, city and zip code.