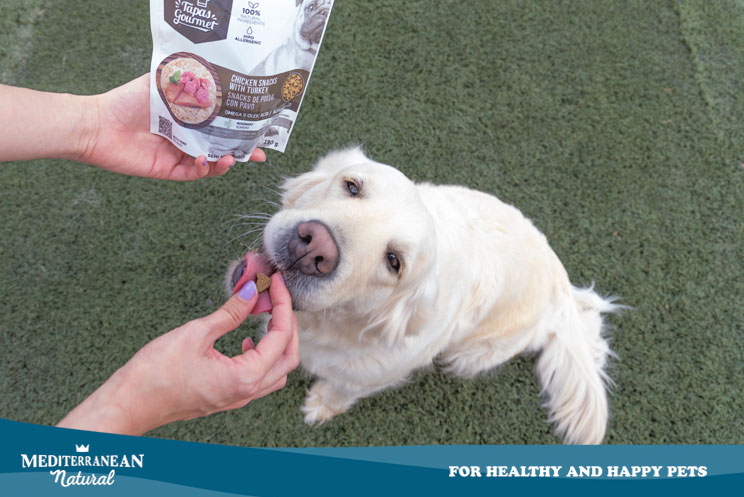 Feeding our dog in a healthy, natural and balanced way is taking care of their health. Discover our 100% natural snacks for dogs!
An increasing percentage of families with dogs show special interest in feeding and rewarding their animals with natural and top quality food and snacks.
We are concerned that our dogs enjoy good health and for this it is essential to offer them snacks as natural as possible, nutritious and that they provide all the dog really needs. Thus, at the same time that we educate or train our dog, we will offer them snacks that take care of their health.
At Mediterranean Natural, we carefully take care of the quality of our snacks, we have evolved to improve ourselves day by day and work to always offer the best. The health of the dog is the most important for us and we strive fully in the preparation of our snacks in search of the welfare and happiness of your animals.
Therefore, we manufacture natural and nutritious snacks that bring a lot of benefits to the dog and they are a guarantee of quality for different reasons:
1.- Our snacks are dyes free, artificial flavours free, trans faty acids free and GMO free.
We prepare our snacks with GMO-free and trans fatty acids free ingredients, which are very harmful for cardiovascular health.
We also do not add artificial colourants or flavours.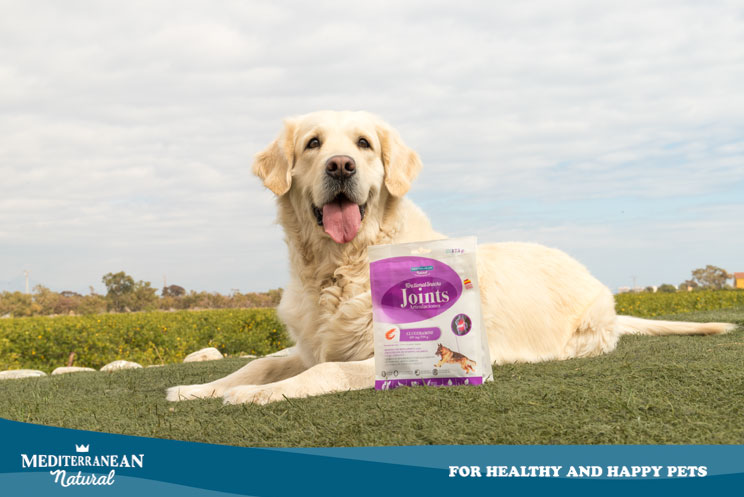 2.- Our snacks are gluten free, reducing the risk of food intolerances.
We use rice as the only cereal (secondary ingredient and in low percentage) because it produces less food intolerances and is not among those qualified as allergens by the European Union (EU Regulation 1169/2011).
3.- In our recipes we include meat and fish of first quality and Spanish origin as the main ingredient.
The meat and fish with which we make our snacks comes from the human food chain and it is from Spanish origin.
In addition, we carry out an exhaustive control from when the ingredients of our recipes leave our suppliers' facilities until they arrive at our factory to ensure that they retain intact all their properties.
4.- All our snacks are made in Spain through a non-invasive process.
We manufacture our snacks in Spain, in our facilities of Guardamar del Segura (Alicante), thus obtaining an exhaustive control of the complete manufacturing process.
We cook the ingredients at low temperature, slowly and intensively, to preserve all the properties and benefits of the raw material.
5.- Our formulations and elaboration process are supervised by a team of experts in animal feeding.
Thanks to the collaboration agreement signed with the Department of Physiology of the Faculty of Biology of the University of Murcia, we work together with a team of experts in animal nutrition both in our formulations and in our elaboration process.
6.- We prepare semi moist snacks, very soft and attractive.
Our snacks are easily chewed, attractive and tasty.
As they are semi-moist snacks, they are very soft and the dog chews them very easily. In addition, thanks to the quality of the raw material with which it is made (first quality meat and fish from the human food chain) it has a high palatability.
7.- Our snacks are easily digestible.
In our recipes we use natural antioxidants such as rosemary and oregano oil, which favor digestion (stimulating bile), inhibit the growth of intestinal parasites, prevent bacterial infections and help correct gastrointestinal transit.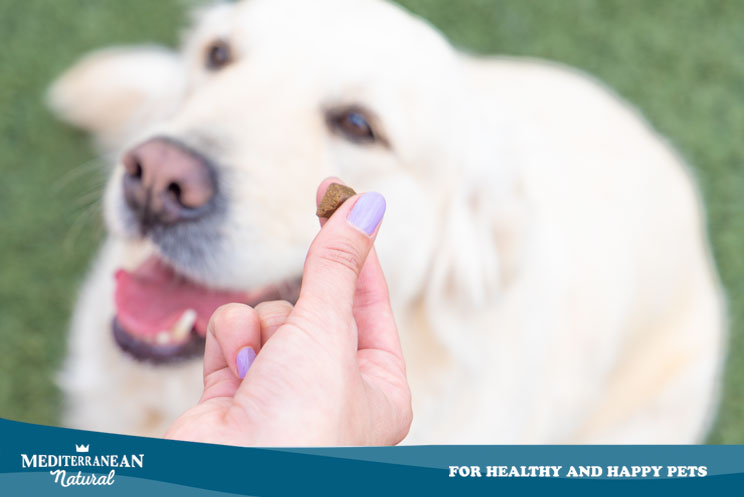 8.- We have a wide range of snacks for dogs of all ages and sizes.
Thanks to our wide range of natural snacks, any dog ​​can enjoy Mediterranean Natural.
We offer hypoallergenic snacks, rich in Omega 3, 6 and 9, rich in vitamins and minerals … that adapt to the nutritional needs of the dog providing numerous benefits: they take care of their muscles and joints, they help the body to perform its functions normally, they maintain cardiovascular health and the proper functioning of the immune system.
We encourage you to discover our Tapas Gourmet, our Functional Snacks (with an added benefit in the care of hair and skin, joints, degenerative and anti-stress processes), our Serrano Ham Bones and our Pig Ears. These last two ideals to strengthen the denture and eliminate tartar.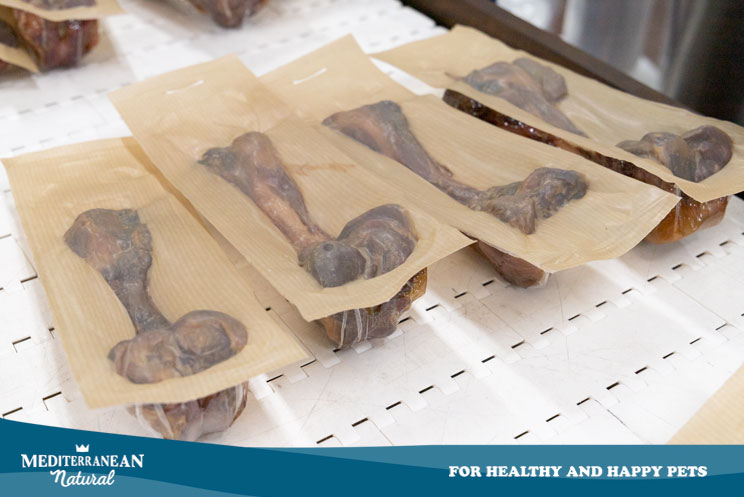 If you need information about our snacks or information about stores near your home where you can find our products, write to marketing@mediterraneannatural.com indicating your city and zip code. We will be happy to assist you.