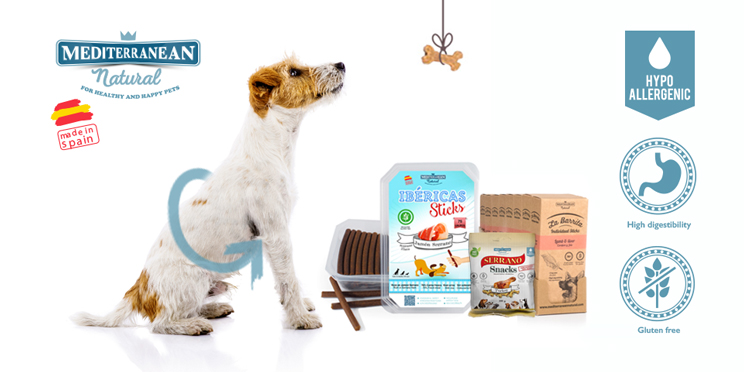 Mediterranean Natural manufactures nutritious, healthy and easily digestible snacks for dogs, with non-allergenic ingredients and non-generators of food intolerances.
Food allergy or food intolerance?
It is very important to establish, in the first place, the differentiation between allergy and intolerance, because, although dogs are usually referred to as allergy, they are rare and are usually intolerant.
Food allergies are immediate and exacerbated immune responses (type I hypersensitivity) with which the body responds to certain components of the diet. The body identifies that a harmful agent exists and launches an immune response against it, producing antibodies. Generally the symptoms of a food allergy appear before 2 hours after ingestion.
Food intolerance or sensitivity is a chronic condition that accumulates over time. They often do not involve an immune response and are caused by type II and III hypersensitivity. It is manifested by antibodies in saliva and / or feces and occurs between 2 hours and three days after ingesting the food.
The most common symptoms of food intolerance or sensitivity are shown on the skin (itching, redness, hair loss, dandruff …) or in the digestive system (intermittent or constant diarrhea, irritable bowel, gas …).
What are the main sources of allergens or food intolerances?
With regard to foods that cause food allergies or intolerances, we can find many and varied information.
In Mediterranean Natural we apply the official list of food allergens of the European Union (Regulation EU nº 1169/2011, Official Journal of the European Union nº 304/2011, Page 43) and based on it we qualify our snacks for dogs as hypoallergenic or not. This list includes as food allergens cereals with gluten, peanuts, lupins, celery, crustaceans, nuts with shell, sesame seeds, eggs, milk, molluscs, mustard, fish, soy and sulfites / sulfur dioxide.
Hypoallergenic snacks for dogs of Mediterranean Natural
At Mediterranean Natural we strive to offer our customers nutritious, healthy and easily digestible products. For this, we select raw materials of Spanish origin that meet the highest quality standards. We carry out an exhaustive control over the raw material served by our suppliers.
The ingredients with which we make our products in our factory in Alicante (Spain) serve three basic principles: natural, fresh and quality.
We work together with the Department of Animal Physiology of the Faculty of Biology of the University of Murcia in the improvement of our formulations and in the control of the production process (non-invasive, which protects the nutritional benefits of the raw material).
Thus, offering healthy and digestible products that do not produce any type of allergy, intolerance and / or food sensitivity has become one of our priorities.
Our snacks and dog food contain all the essential macronutrients in the proper proportions that the dog needs and these macronutrients come from fresh foods not considered as a source of allergens (with the exception of fish and milk, to which we will refer later).
Specifically, we have carried out the following actions in order to offer easily digestible products that do not produce allergies or food intolerances:
1.- Our snacks and dog food are artificial colourants free and artificial flavors and flavorings free.
2.- They are gluten free and we use rice as a source of carbohydrates because it is the cereal that produces less intolerance in dogs and it is not among those qualified as allergens by the European Union.
3.- We use fresh meat. In our formulations we don´t use meat by-product flours.
4.- They are semi-moist products, elaborated by a slow and intensive non-invasive cooking process that preserves the raw material properties intact. Thus, they are easily digestible, which helps keep the flora and intestinal mucosa in good condition.
5.- Our snacks and food provide the essential amino acids to the dog.
6.- The animal protein of our products is of high quality, high biological value and easy digestion.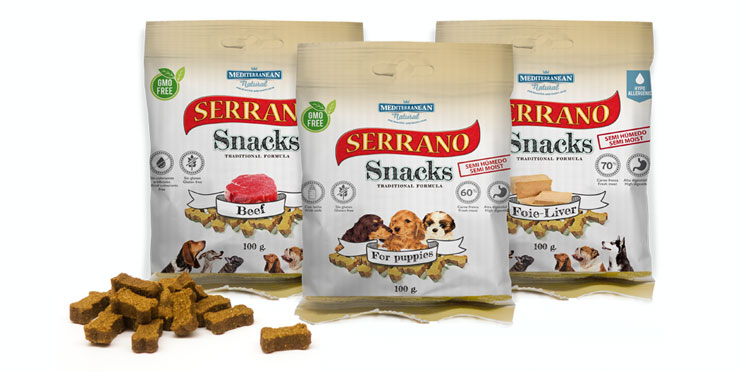 Although sometimes products with fish are considered as hypoallergenic, if there is only one protein source in its formulation (without assessing the most important thing: the quality of this protein), in Mediterranean Natural, according to Regulation EU No. 1169/2011, which collects the fish in its official list of food allergens, we do not consider as hypoallergenic those of our products that include this raw material in its formulation, in spite of the fact that the fish that we use in our snacks and food is top quality, it provides high biological value protein  and is a source of Omega 3 and 6 fatty acids (which help to preserve the integrity of the intestinal mucosa).
Nor do we classify as hypoallergenic those of our products that contain milk, as this is also included in the official list of food allergens in the European Union.
Finally, it is important to emphasize that all our products are GMO free  and trans fatty acids free and contain a high percentage of fresh meat.
We invite you to consult the full range of Mediterranean Natural products. Among them you will find a wide selection labeled with the "hypoallergenic" seal that guarantees that it is not made with any of the ingredients considered as allergens by the European Union.
If you need information about stores near your home where you can find our products, write to marketing@mediterraneannatural.com indicating your city and zip code. Mediterranean Natural exports its products to 34 countries around the world.