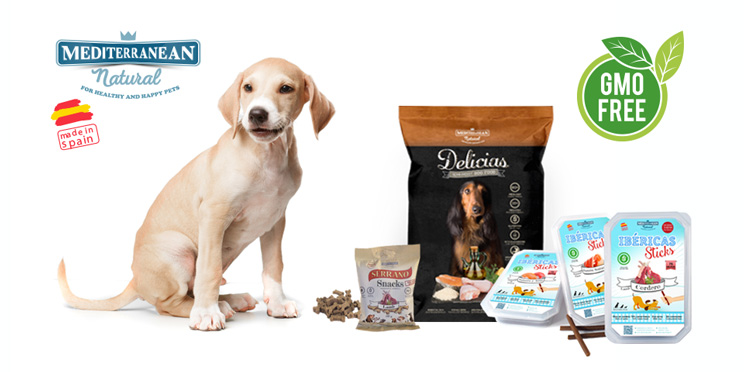 All products for dogs made by Mediterranean Natural are GMO free. Mediterranean Natural select natural and nutritious raw material, not modified genetically.
What are transgenics?
Transgenic is an organism that has been modified by genetic engineering introducing in it one or several genes of other species.
The most common is the incorporation of bacterial genes into crops and food, but the possibilities are endless.
To date, most genetically modified organisms (GMOs) are crops and their end is their greater resistance to pests and greater tolerance to herbicides.
The production of these crops is intended for animal feed and for industrial uses such as agrofuels or textiles.
However, the extensive introduction of transgenic food in animals contrasts with the scarce existence of scientific studies on the impact on their health.
The possible appearance of new toxicants in food, food intolerance or new allergies are the main unknowns that arise in this regard.
Why Mediterranean Natural does not use transgenics
At Mediterranean Natural we strive to ensure that the raw materials that make up our products meet the highest quality standards. For this, we carry out an exhaustive control over the raw material served by our suppliers and their origin.
The raw material selected by Mediterranean Natural addresses three basic principles: natural, fresh and quality.
In this way, together with a control of the production process (non-invasive, which protects the nutritional benefits of the raw material), we make sure to offer our customers a nutritious, healthy and easily digestible product.
Based on these principles, the use of transgenics in our products is incompatible with our policy and values.
By not introducing genetically modified raw material into our snacks and dog food we make sure to offer more natural products and thus minimize the risk of food intolerance and allergies.
Here you can see the complete range of Mediterranean Natural GMO free products. One of our top products is La Barrita:
Finally, it is important to highlight that all our products are trans fatty acids free (responsible for the increased risk of cardiovascular disease), gluten free, artificial colourants free and are easily digestible. All Mediterranean Natural snacks that do not contain milk and/or fish are hypoallergenic.
If you need information about stores near your home where to find our products, write to us at marketing@mediterraneannatural.com indicating your city and zip code.