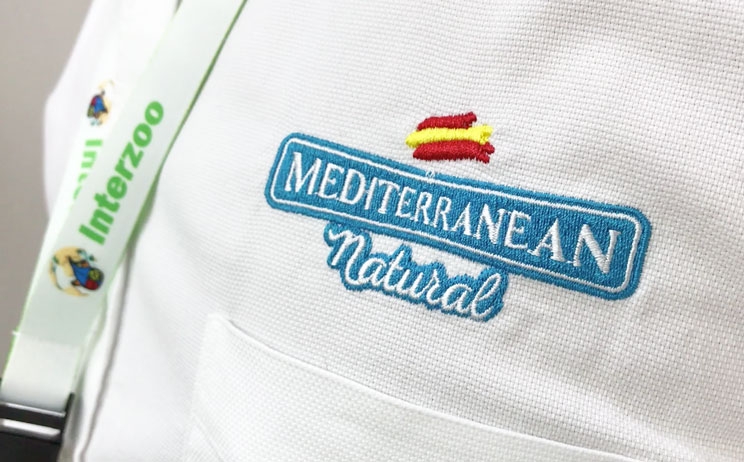 May 30, 2018
One more edition, Mediterranean Natural exhibited its products for dogs and cats at Interzoo. The excellent reception and the interest aroused opens the way for us in new countries around the world.
Interzoo is the world's most important trade show about food and accessories for animals and is held every 2 years in Nuremberg (Germany).
In Interzoo 2018, the figures from previous editions have been surpassed: in its 120,000 square meters of exhibition space, 1989 pet professionals from 66 countries have presented their products and has been visited by 39,000 people of 125 different nationalities.
Without a doubt, one more year, Interzoo is a true reflection of the growth of the market for animal supplies, which reached 98 billion euros last year.
Mediterranean Natural exhibited its snacks and food for dogs and cats and presented its new products 2018 in one of the 12 pavilions of which the fair consists. Our stand this year was decorated with images of our customers and followers enjoying our products.
The new families of Serrano Snacks for cats, Functional Snacks and Tapas Gourmet, as well as the Half Mega Meaty Ham Bone, which joins our already known Ham Bones, monopolized the interest of our distributors around the world and new professionals who visited our stand attracted by the quality of our products. In the coming months Mediterranean Natural will be present in new countries.
And it is that all the effort has been worthwhile: hundreds of visitors came to our stand and we held more than 150 personal interviews with professionals from 41 different countries.
Mediterranean Natural consolidates this 2018 as one of the most important Spanish manufacturers of snacks and food for dogs and cats. Our products (gluten free, artificial colourants free, GMO free and trans fatty acids free) have won the trust of consumers around the world, who, attracted by their excellent quality, offer our snacks and food to their dogs and cats.
Do you want to know how was our experience in Interzoo 2018? We have prepared this video for you. Enjoy it!