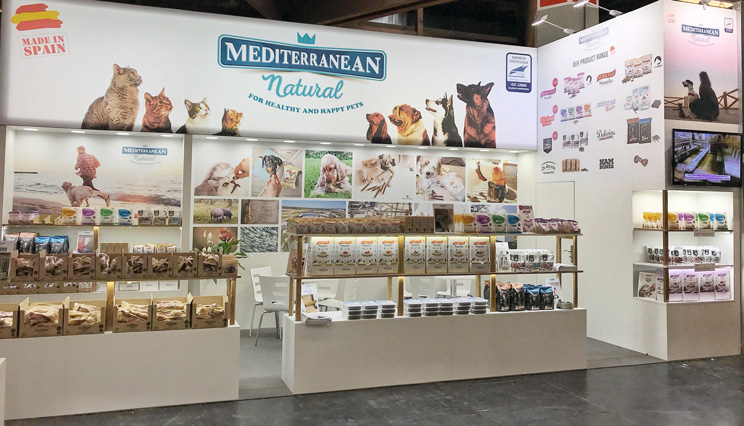 May 7, 2018
From May 8 to 11, visit our Stand 470 in Hall 7 and discover all the new products that Mediterranean Natural presents at Interzoo for dogs and cats.
One more year Mediterranean Natural exhibits its products for pets at the most important trade show in the pet industry worldwide.
The 2018 edition of Interzoo starts in a few hours and we have everything ready to offer our products for dogs and cats: snacks and food gluten free, artificial colourants free, GMO free and trans fatty acids free, made with fresh meat and fresh fish that provide the necessary nutrients for the good health and happiness of the animal.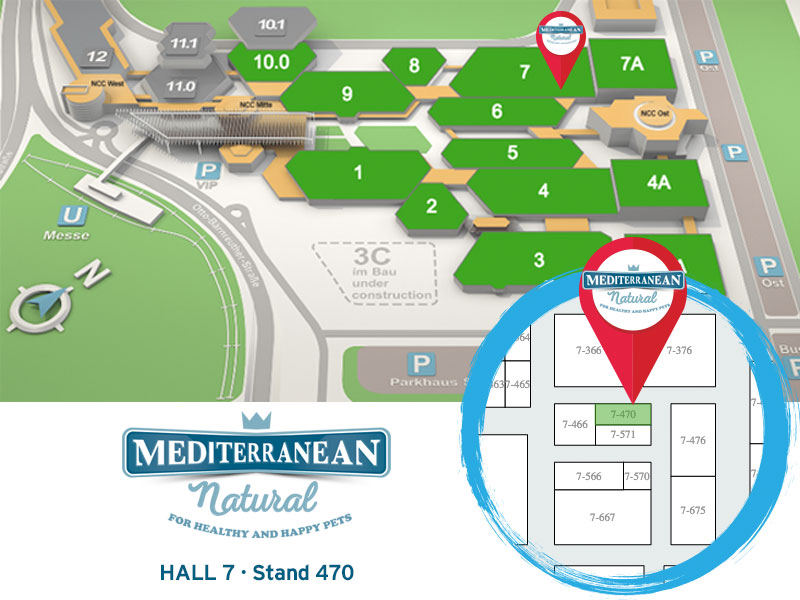 Both the formulations and the production process (non-invasive, which respects the properties and nutrients of the raw material) have been supervised by the team of experts in animal physiology at the Faculty of Biology of the University of Murcia, thanks to the collaboration agreement signed with Mediterranean Natural in 2015.
Our brand, acredited with ISO 22000/2005 (food quality management), will bring to Interzoo 2018 our classic snacks for dogs (Serrano Snacks, La Barrita and Ibericas Sticks), 100% natural Ham Bones and Delicias (semi-moist food for puppies and adult dogs).
But in addition, in this edition, three new product families and a new Ham Bone will be officially presented:
1.- Serrano Snacks for cats
The first snack of Mediterranean Natural for cats is presented in small pieces, ideal for tasting for its size, texture and flavour.
Made with fresh meat and fresh fish cooked at low temperature, they provide all the nutrients of the raw material and are the ideal food supplement for the cat.
Like the rest of our brand products, they are gluten  free, artificial colourants free, GMO free and trans fatty acids free product.
They come in four flavors: chicken, liver, sardine and salmon and tuna. The first two are a hypoallergenic snack and the fish snacks provide Omega 3 and 6 in the ideal proportions, highly beneficial to the health of the cat.
In addition, they contain antihairball ingredients, favoring proper gastrointestinal function.
2.- Tapas Gourmet for dogs
The Tapas Gourmet are a 100% natural snack made with fresh meat and fresh fish of the highest quality.
They come in three flavors: red meat (beef and lamb), white meat (chicken and turkey) and fish (sardine). Meat snacks are hypoallergenic.
They contain oregano oil and rosemary, natural antioxidants that favor digestion (stimulating bile) and prevent bacterial infections, helping the correct gastrointestinal transit.
It is a gluten  free, artificial colourants free, GMO free and trans fatty acids free product. Natural source of oleic acid.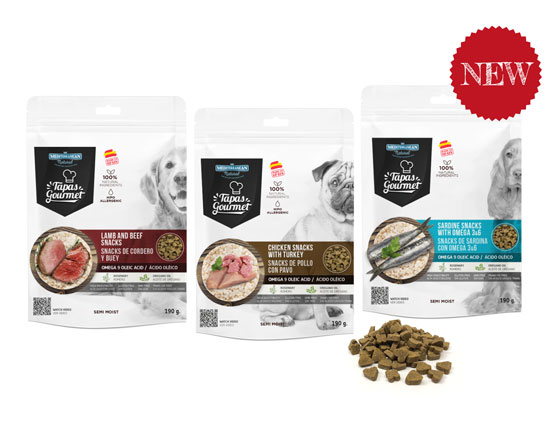 3.- Functional Snacks for dogs
Until now Mediterranean Natural had launched the Functional Snack with glucosamine, which favors the development and strengthening of tendons and joints. Ideal for dogs prone to arthrosis or hip dysplasia, for example.
It is joined by three other varieties, completing the Functional Snacks family:
Calming: with chamomile and passionflower, combat nervous states and hyperactivity favoring relaxation in a natural way.
Skin and hair: with aloe vera pulp, it has anti-inflammatory properties and keeps skin healthy and hair shiny.
Anti-aging: with artichoke, it helps regenerate liver cells, eliminates toxins and reduces cholesterol.
The Functional Snacks are a food supplement made with 100% natural products.
They contain fresh meat and fresh fish and are a natural source of Omega 9. They are gluten  free, artificial colourants free, GMO free and trans fatty acids free product.
It is important to emphasize that it is a food supplement and not a medicine.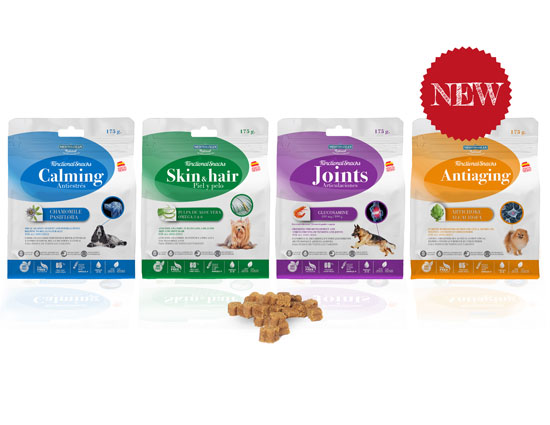 4.- Half Mega Meaty Ham Bones
This serrano Ham Bone is incorporated as a novelty to the family of Ham Bones.
It comes in vacuum packed bags of 2 units, weighing approximately 550 grams.
A 100% natural and hypoallergenic product with many properties and benefits for the dog: Serrano ham is high quality meat rich in proteins of high biological value, low in cholesterol and saturated fats and rich in monounsaturated fats. It provides vitamins from Group B (B1, B3 and B6), essential for the proper functioning of the metabolism. It also contains oleic acid, minerals such as iron, phosphorus, potassium, sodium and zinc.
The Half Mega Meaty Ham Bone, like the rest of Ham Bones of Mediterranean Natural, is not cooked, but is subjected to a drying process that maintains all its nutritional properties and prevents splinters easily when chewed and digested by the dog .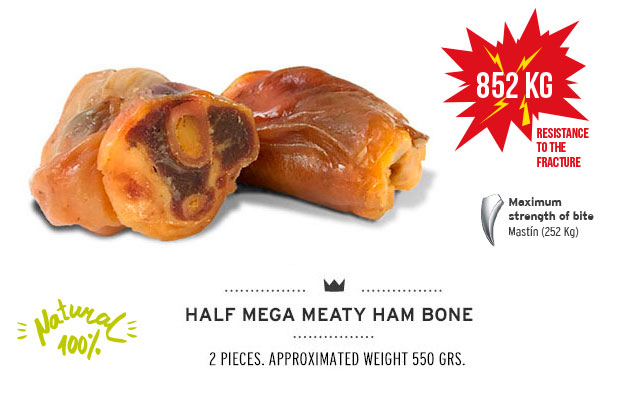 Mediterranean Natural, together with the Department of Animal Physiology of the University of Murcia, has carried out a fracture resistance study of our Ham Bones whose results show that they are safe for dogs as long as they are administered according to our recommendations (each bone is indicated for dogs of different sizes). Check here the results of this study.
We came to Interzoo 2018 with more enthusiasm than ever and with the confidence of offering a first quality product and at the forefront of the food and snacks market for dogs and cats, but preserving a natural and nutritious recipe.
We are waiting for you at Stand 470 in Hall 7! Visit us and see our products for dogs and cats!