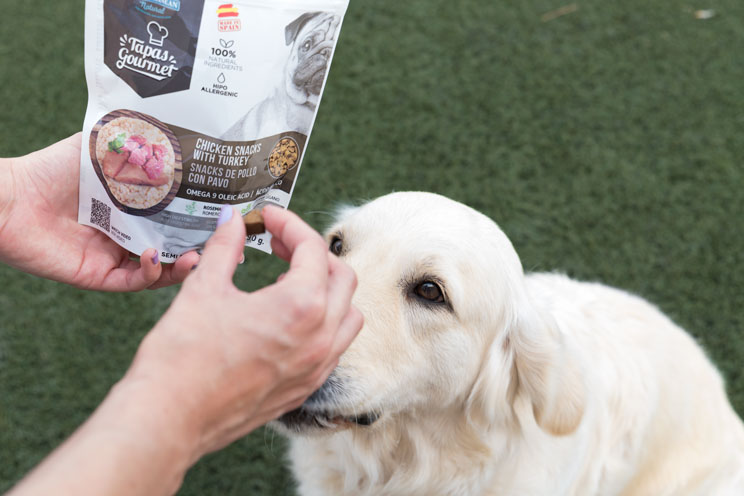 For dog training and education is essential choosing a good treat to reinforce the behavior to obtain good results. The reinforcement should be attractive to the dog.
We all know many people who use sausages made for human consumption for dog training exercises because their smell is very attractive to the animal, but do you really think this is the best product you can offer them? Do you think this meat is suitable for your dog?
Well, we are going to offer you the ideal snacks to educate and train your dog, as attractive as sausages for humans but specially made to take care of your furry companion health. In this post we tell you everything.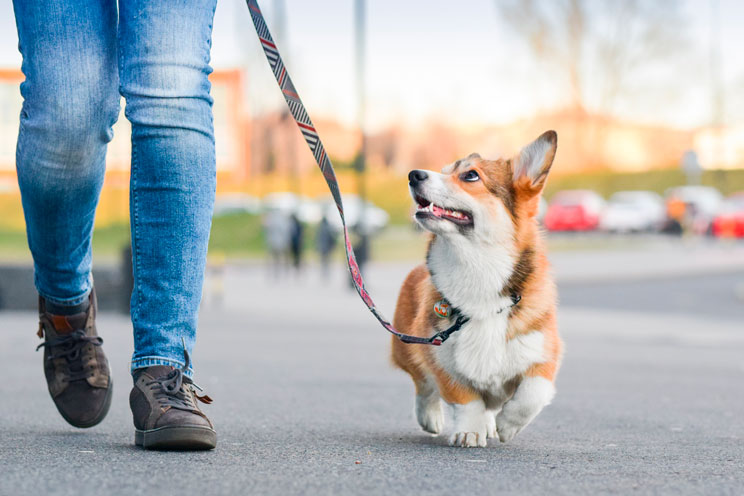 What you need to educate and train your dog effectively
When our dog is a puppy, it is the best time (but not the only one) to educate and train it, guiding its behaviour. Without any doubt, we will avoid many problems in the future.
When our dog is an adult, despite having made an effort in his education, we all worry at some point about some unwanted behaviour, which we strive to correct.
The education of the dog extends during all the life, because many of its behaviours are caused by external agents and depend directly on the personality of the animal and its form to face them.
To have an effective training, it must always be adapted to our dog: the reward we offer must be very attractive for him and the exercises of gradual difficulty, with achievable goals and respecting his limitations.
Day by day, also a good reward will help us to educate our dog easily, helping us to achieve our goal.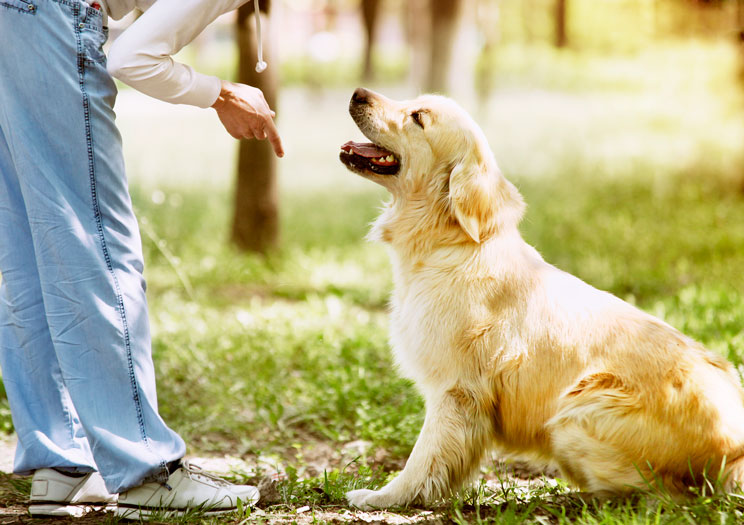 Why Mediterranean Natural snacks are ideal for educating and training a dog
In Mediterranean Natural we have the ideal snacks for this purpose. We work to offer quality snacks that cover both dog's needs and human's expectations due to its composition and its characteristics.
We have a wide range of ideal snacks to train and educate your dog for the following reasons:
1.- Its smell of meat and fish is very attractive for your dog.
We make our snacks with meat and fish from the human food chain. Its aroma, very natural, will capture "ipso facto" the attention of your dog.
2.- Its texture, very soft and pleasant to the palate, will love your dog.
All Mediterranean Natural snacks are semi-moist. Its high palatability is one of the main characteristics that differentiate them from other snacks on the market.
As they are soft and made with first quality raw material, the experience of its intake is very pleasant for the dog, which will make you want to repeat this experience, even for dogs with chewing problems, missing teeth or puppies.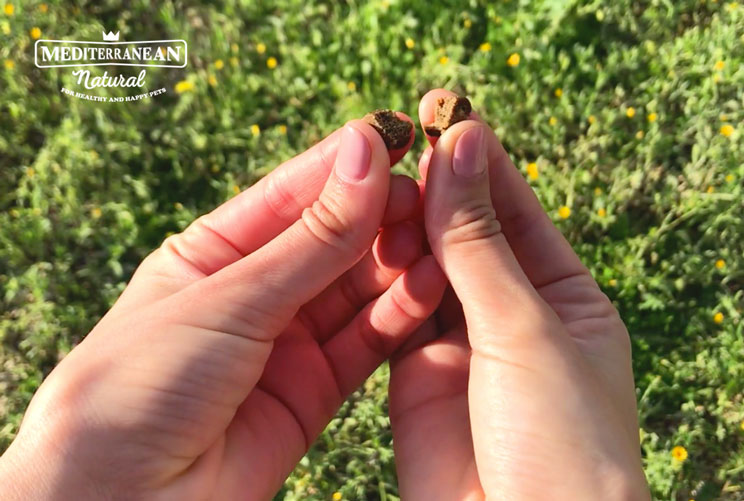 3.- As they are soft, you can easily split them in small portions and adapt them to your dog needs.
Especially if your dog is small in size and eats very little, all Mediterranean Natural snacks can be split so you do not have to give him a complete snack every time you reward him because he has achieved the goal in his training sessions. Thus, you can reward him without fear of eating more food than he needs.
4.- In addition to educating your dog, with our snacks you are feeding it and taking care of its health.
Mediterranean Natural snacks are made with first quality Spanish raw material from the human food chain.
Meats and fishes are the main ingredient in our formulations and our treats for dogs and cats are gluten free, colourants free, GMO free and trans fatty acids free.
Our snacks cover the nutritional needs of your dog, providing the proteins, calories and minerals your dog really needs and in the right proportions.
Mediterranean Natural is a company accredited with ISO 22000/2005 in terms of food quality and all our products are made by a non-invasive process, which maintains the properties of the raw material and makes it easily digestible for the dog.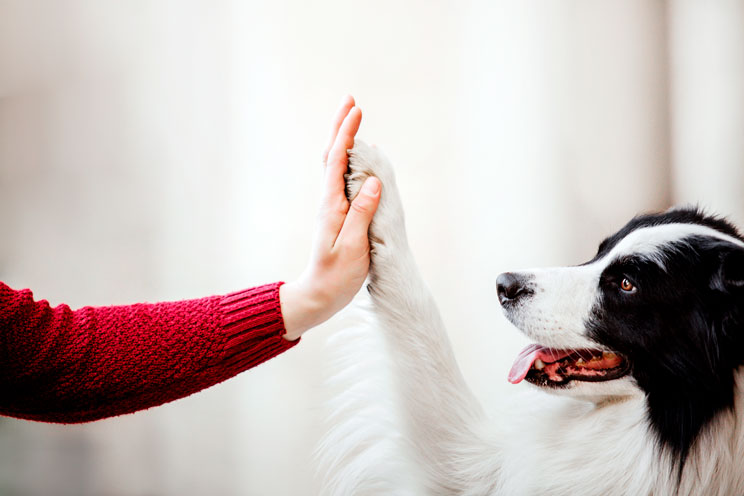 5.- Our wide range allows you to choose the most suitable for your dog.
We offer meat and fish snacks, hypoallergenic, with omega 3, 6 and 9, rich in calcium and phosphorus …
Our liver snacks are especially indicated for dogs with high activity, those that contain glucosamine protect the joints, those that take chamomile and passionflower for very nervous dogs, those that contain aloe vera improve hair and skin and those that incorporate artichoke in their formulation help to eliminate toxins.
We also have a range specially formulated to achieve the needs of the puppy.
If you prefer that your dog does not eat many calories, you can choose our turkey or chicken snacks.
As you can see, the range of Mediterranean Natural products is extensive, but all are equally attractive for your dog and ideal as reinforcement in their training.
6.- Our wide range of formats allows you to choose a suitable snack for every occasion.
The snacks range for dogs of Mediterranean Natural have different characteristics. So you can choose the one that best suits your needs depending on whether you educate your dog at home or in a training centre, if you carry your snacks in your bag and need to move, if you use them on walks or if your dog is larger and needs more quantity.
We have bags of 100 grams (our Serrano Snacks), 175 grams (our Functional Snacks, with specific properties) and 190 grams (our Tapas Gourmet).
In addition, also in sticks format, such as La Barrita (vacuum packed, ideal when we go out of home) and Ibericas Sticks (packaging format XXL of 900 grams).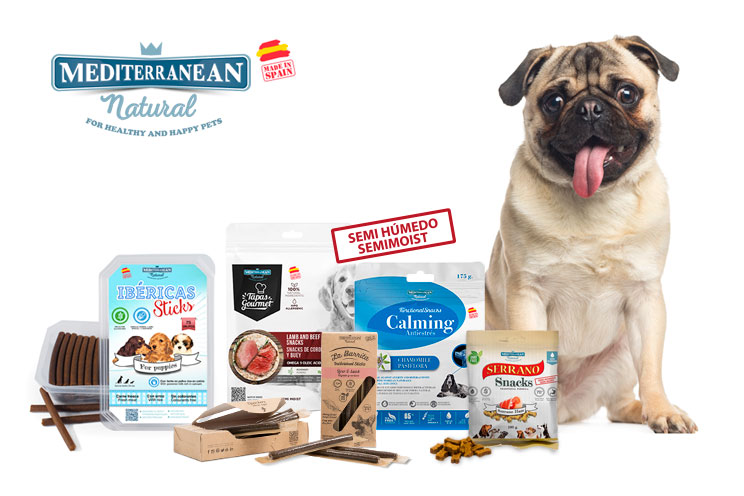 7.- All formulations and elaboration system are supervised by a team of experts in animal nutrition.
Thanks to the signing of a collaboration agreement, Mediterranean Natural works with the Department of Animal Physiology of the Faculty of Biology of the University of Murcia in quality control and development and innovation.
All the research carried out together with the University of Murcia are aimed at a common goal: the highest quality of our products.
8.- Mediterranean Natural is a reference brand used by the best professionals.
Mediterranean Natural is used by the best professionals such as training centres, therapy programs with dogs, or agility and sports centres with dogs …
Thanks to its characteristics and its effectiveness as a positive reinforcement, our snacks are used by professionals from all over the world (we are present in 32 countries). You can use them in the education and training of your dog as they are products tested and valued by the most demanding professionals.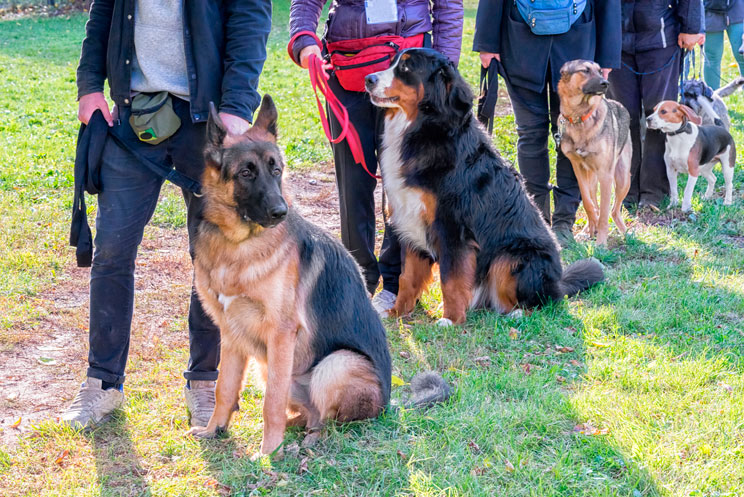 With the Mediterranean Natural snacks, you will achieve the main purpose (training and educating your dog): offering an extremely attractive reward for him, which will make him get involved and make the maximum effort to achieve the goal, knowing that, in addition, you take care of his health. Undoubtedly, our snacks will help you to educate and reorient your dog's behaviour both on a day-to-day basis and in training sessions.
If you have any questions about our products or you need information about stores near your home where to find them, do not hesitate to contact us by sending us your data, postal code and country to marketing@mediterraneannatural.com
If you have already tried our semi-moist treats for training and educating your dog, Tell us your experience!