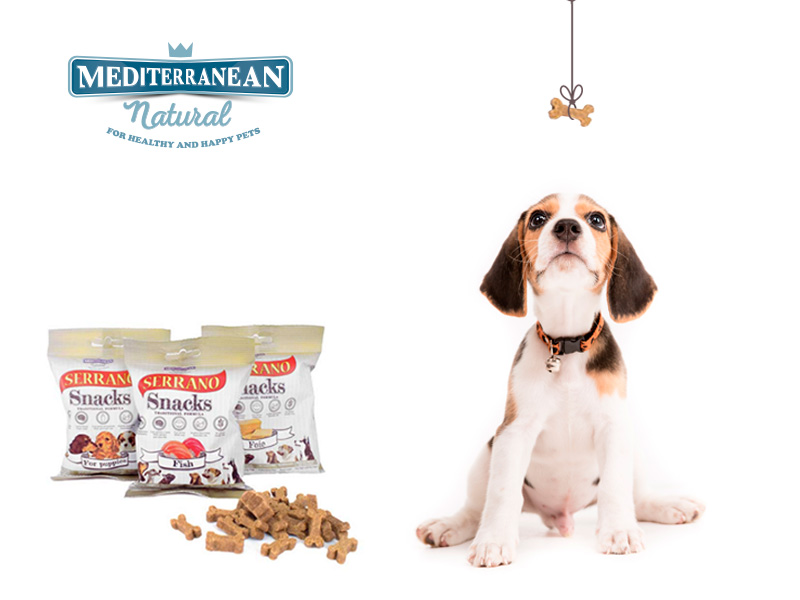 The cooking process of our treats is done at low temperatures (70°C) and slow and intense in order to preserve all of the nutrients and flavours. Gluten and colourants free. Raw materials 100% spanish origin and highest quality. Improved formulas acredited by the University of Murcia. Do you know the Mediterranean Natural treats for dogs? Read more!
Raw materials
The raw material selection is one of the most important steps in developing a high quality snack for dogs.
Therefore, in Mediterranean Natural we only use raw materials of Spanish origin that meets the highest quality standards: we know all our suppliers and visited their facilities on a regular basis.
Fish contains high-quality protein and has a low calorie count, whilst being an excellent source of vitamins from group B (B1, B2, B3 and B12), as well as polyunsaturated fats and vitamins A and D. Fish bones (finely grounded) are rich in calcium, minerals and phosphorus.
We chose salmon and tuna to include in our formulations: they are high in Omega 3 fatty acids, helps keep the cardiovascular system and is rich in phosphorus and potassium.
All Mediterranean Natural treats for dogs are gluten free (containing rice), colourants free, GMO free, Trans Fatty Acids free and are enriched with oregano oil to facilitate digestibility.
The formulations have been developed in collaboration with the Department of Animal Physiology  from University of Murcia, which accredited and monitors our production process.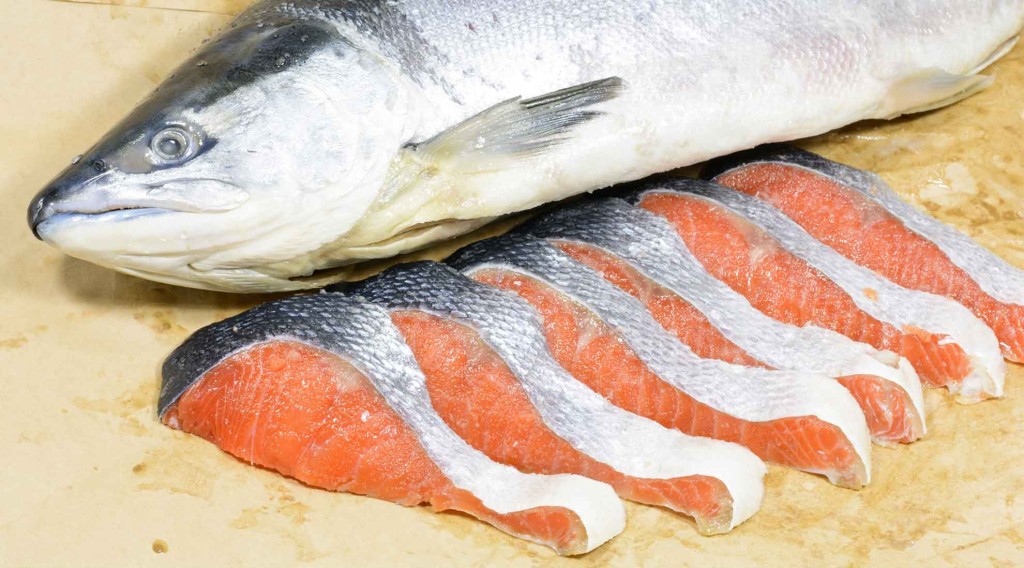 The Mediterranean Natural fresh fish treats
The Mediterranean Natural treats for dogs, being so soft, they are chewed and digested easily regardless of the size of the dog.
1.- La Barrita, rich in salmon and tuna:
Delicius Premium sticks for dogs with a high fresh meat and fresh fish. They are individually vacuum sealed to be fresh all time till it is consumed.
It is the perfect treat to go walking with your dog as well as it is a perfect complementary food due to the high biological proteins value.
Packaging: 12 units pack (150 grams).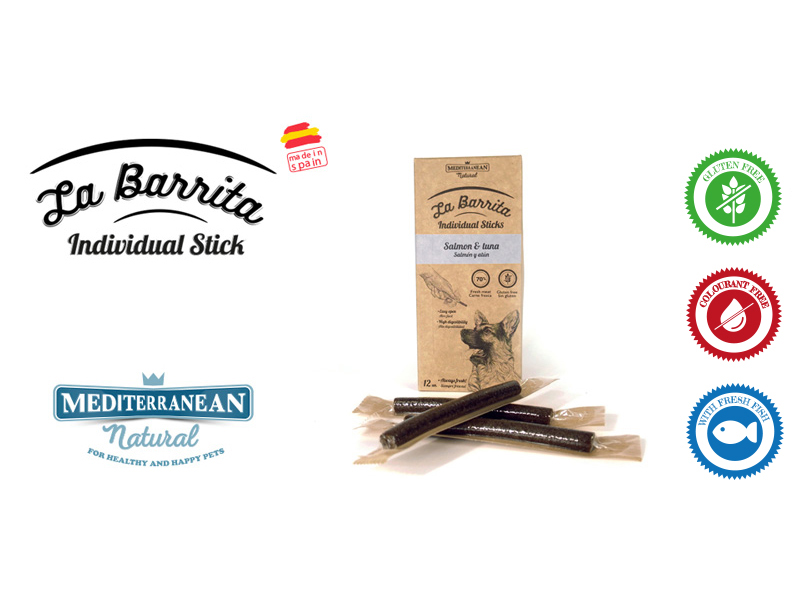 2.- Serrano Snacks with fish:
Mediterranean Natural Serrano Snacks, delicately cut into small bone shape pieces, guarantee your pet's safety, whilst maintaining their purity and all their nutrients, reflecting a natural diet and containing fresh meat and fresh fish (salmon and tuna).
The perfect snack to reward your pet's good behaviour. Ideal for training purposes.
Packaging: bag 100 grams.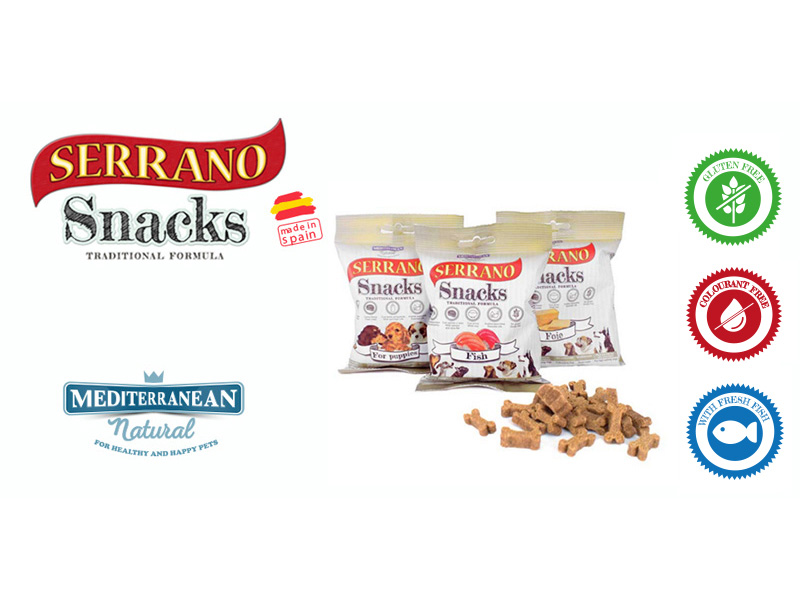 3.- Ibericas Sticks with fish:
Delicious sticks, made with fresh meat and fresh fish (salmon and tuna), vacuum and airtight seal to perfectly preserve flavours and aromas.
Thanks to the high quality, they are the ideal daily treat for your pet, as well as being the perfect complement to their diet due to their vitamin and mineral content.
Packaging: 70 units set (900 grams).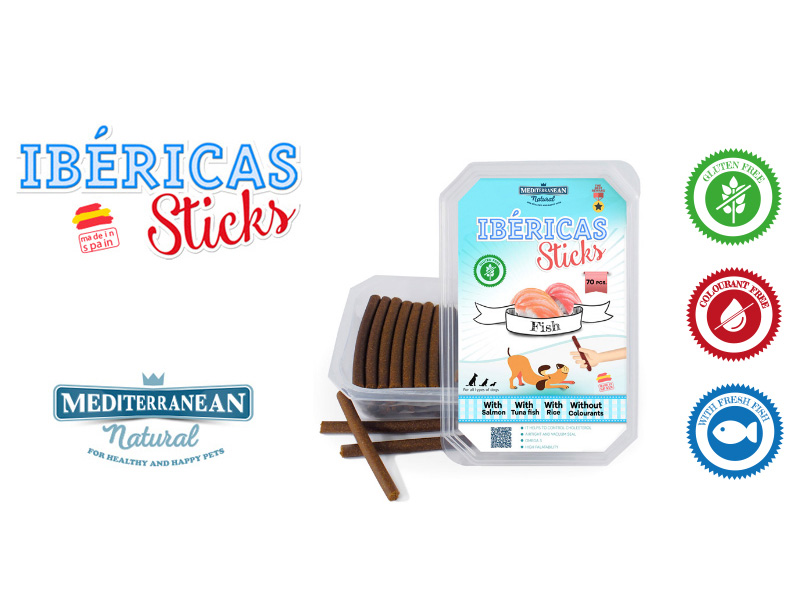 Delicias semi-moist dog food: with salmon and tuna
We include the best fish in our semi-moist dog food for puppies and adult dogs too.
The semi-moist dog food for adult dogs is specially developed for small and medium breeds and those dogs with difficulties to eat dry food. With fresh meat, salmon and tuna.
The semi-moist dog food for puppies is specially developed for puppies under 1 year. It is made with fresh meat, enriched milk, salmon and tuna.
Delicias semi-moist dog food contain glucosamine to promote the development of cartilaginous tissues. Airtight seal.
Packaging: 800 grams (puppies bag) and 1,5 kg (adult dogs bag).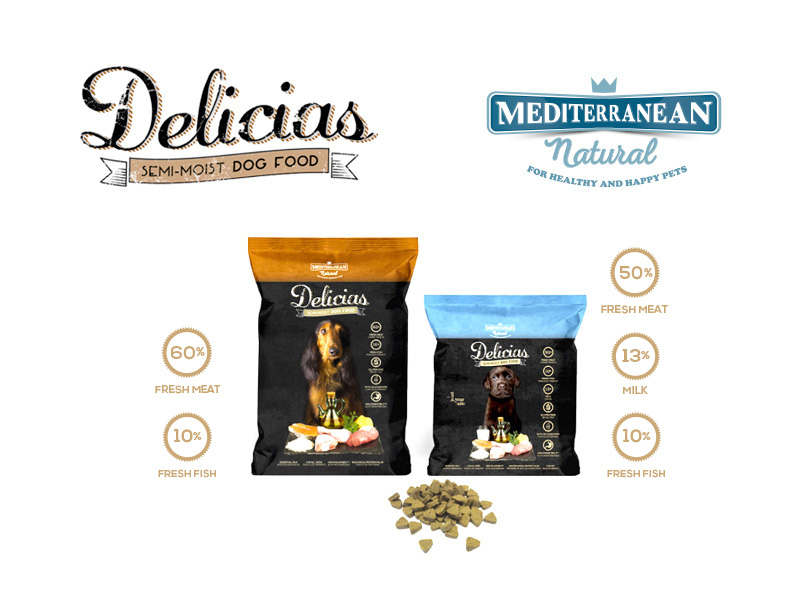 What do you think about our fish treats? Which one will you choose?