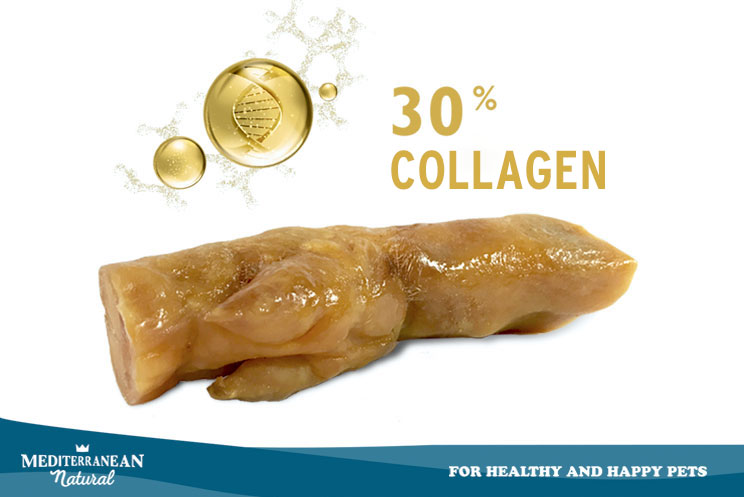 Collagen is in the dog's body tissues and it is very important for maintaining good health, but by the age it is lost naturally. We show you how to prevent this loss of collagen.
What is collagen?
Collagen is a structural protein present in most of the body tissues of vertebrates.
In dogs it is found on the skin, hair, joints, cartilage, nails, ligaments, tendons, hematological tissue, adipose tissue, teeth and different organs.
Its main function is the formation of fibers (gives firmness and elasticity) in the connective tissue, enabling the body to remain united in its structure.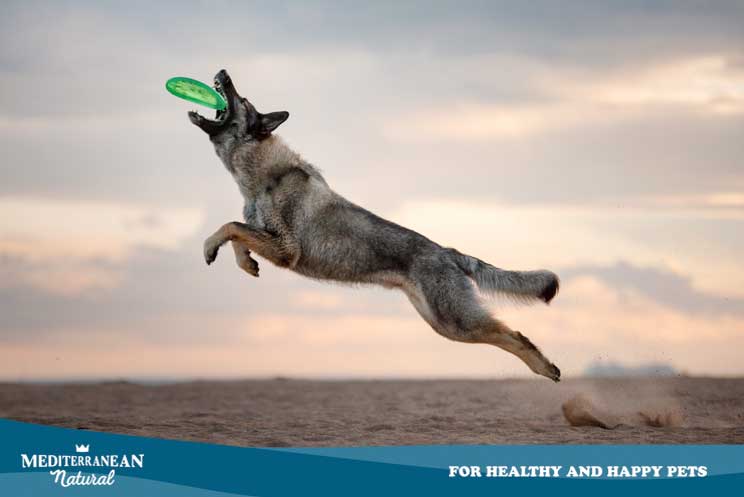 What are the benefits of collagen?
With age, the amount of collagen in the dog's body (as in other vertebrates) decreases naturally and gradually, which causes a deterioration in the health and causes discomfort and problems of elasticity and flexibility in the skin or mobility problems and pain in muscles and joints, among others.
Therefore, supplying collagen in the dog's diet, we will be able to prevent the natural aging process, helping to improve its general health and well-being.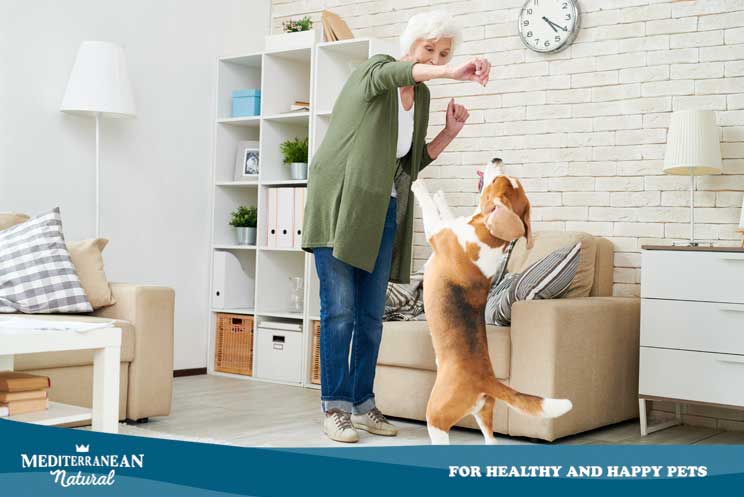 These are the specific benefits of collagen for the dog:
1.- Repairs tissues and helps to give them flexibility and elasticity.
2.- In degenerative processes, it improves the general state of the joints, facilitating greater mobility.
3.- It prevents muscle injuries and helps in the resistance of the ligaments, something very important both in large dogs and in those who play sports that are very active.
4.- Helps to regenerate fractures and injuries.
5.- Reduces muscle and joint pain and lameness, and is especially beneficial in hernia or osteoarthritis.
6.- Improves strength and endurance in nails and teeth.
7.- Helps to maintain healthy skin and hair and protects them from external threats.
8.- Improves vision.
9.- Improves and protects gastrointestinal transit, helping to heal gastric lesions.
10.- Helps maintain the health of the cardiovascular system (reduces cholesterol and blood pressure and has an anticoagulant effect).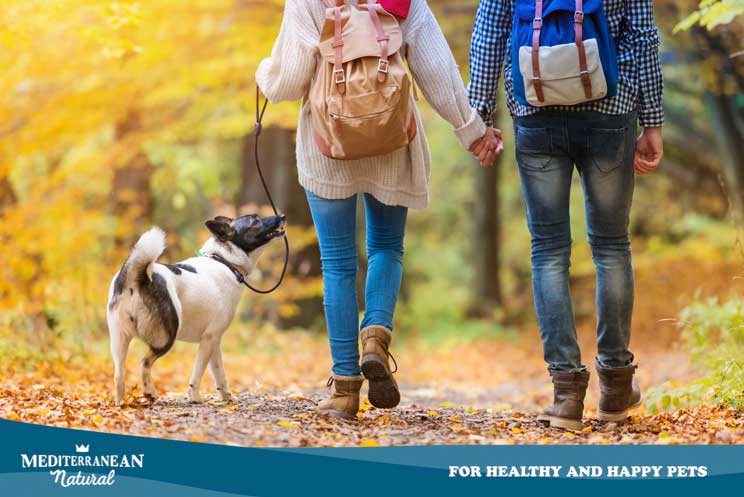 How to supply collagen to a dog?
The most known form is collagen hydrolyzed, because it is the presentation for humans. However, it is not the only one in dogs.
Here we explain how to supply to your dog a source of natural collagen, in addition, you will provide him more benefits for his health.
In carnivorous animals, such as the dog (which is  a morphoanatomic and physiological carnivore, although he can digest and assimilate nutrients such as carbohydrates, present in cereals, legumes or fruits), the digestibility of animal protein is high. Therefore, a dog digests unhydrolyzed collagen.
There is a 100% natural product of Spanish origin that provides your dog the collagen he needs in his diet, helping to improve his health and well-being: it is the Serrano Ham Bones from Mediterranean Natural.
Our Serrano Ham Bones are an exceptional food with a high protein concentration that helps to prevent the different disorders that a dog can suffer throughout development.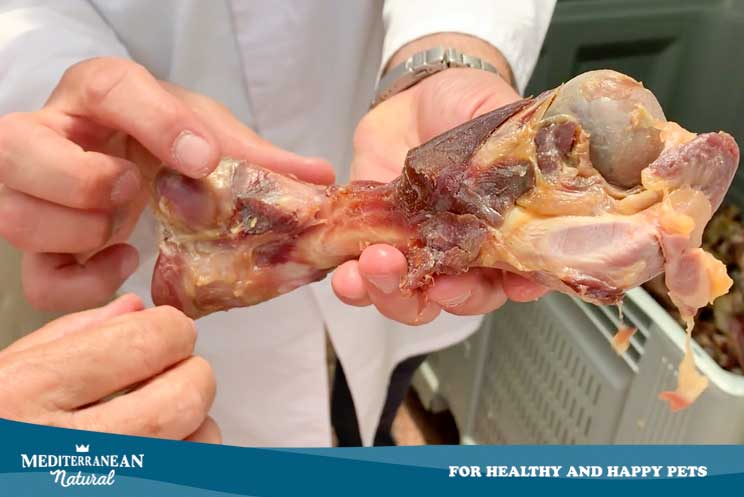 Why are our Serrano Ham Bones ideal for providing collagen to the dog?
As we have commented, our ham bones are a food with a high protein concentration, totally digestible by the dog.
In addition, they are an ideal source of collagen because:
1.- They contain high amounts of this structural protein:
31.11% collagen in our serrano ham trotter, 13.53% in our serrano ham bone and 8.89% in our serrano mega meaty ham bone. *
2.- The collagen that our Serrano Ham Bones provide is digestible by the dog.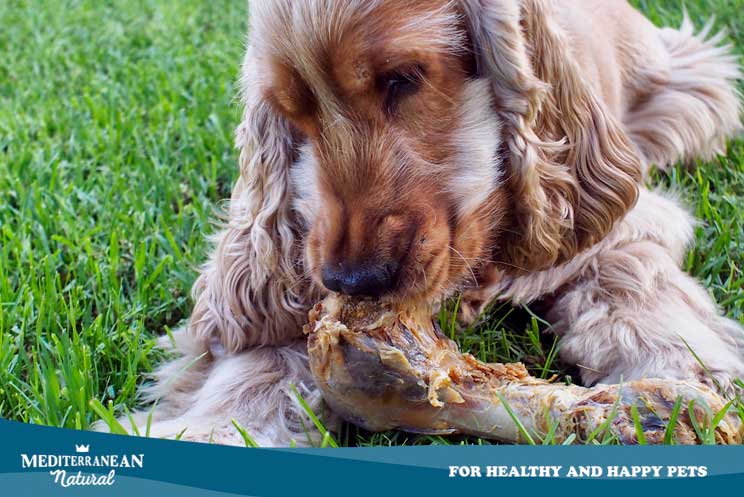 But our Serrano ham bones provide to the dog some more benefits:
1.- Our Serrano ham bones provide, in addition to collagen, proteins of other types such as muscular, tissue or structural.
2.- It is a 100% natural product that is very attractive for the dog, that strengthens teeth and removes tartar.
3.- It is hypoallergenic, gluten free, artificial colourants free and trans fatty acids free.
4.- It is rich in calcium and phosphorus and a natural source of oleic acid.
5.- It undergoes a drying process that maintains all its nutritional properties and minimizes its risk of chipping. **
In the case of our serrano ham trotter, serrano half mega meaty ham bone and serrano ham knuckles, there is no risk of chipping, thus being a 100% safe recreational bone for the dog.
Therefore, our Serrano Ham Bones, due to their contribution in digestible collagen by the dog, help your animal in its natural aging process, improving its general health and well-being as well as hydrolyzed collagen and also providing it with other important benefits.
We invite you to offer your dog our serrano ham trotter: with 31.11% collagen, attractive, natural, nutritious and totally safe.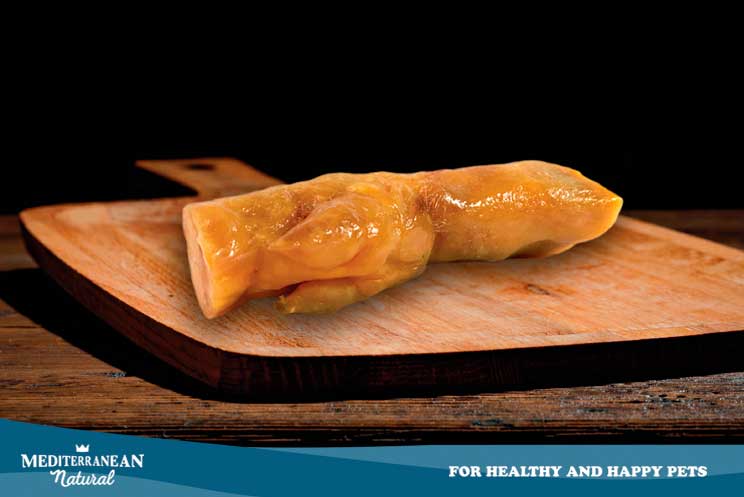 If you need information about our Serrano Ham Bones or about stores near your home where you can find our products, write to us at marketing@mediterraneannatural.com indicating your city and postal code. We will be delighted to assist you.
* Analysis carried out by Laboratorios Munuera (September 2020).
** A Serrano Ham Bone should always be given to a dog under the supervision of an adult, choose the right bone for the dog's size (it should never be smaller than its mouth) and remove the small pieces in case the bone splinters ( Although the risk of chipping is minimal, it is a natural product of animal origin and, therefore, each piece and its characteristics are different).