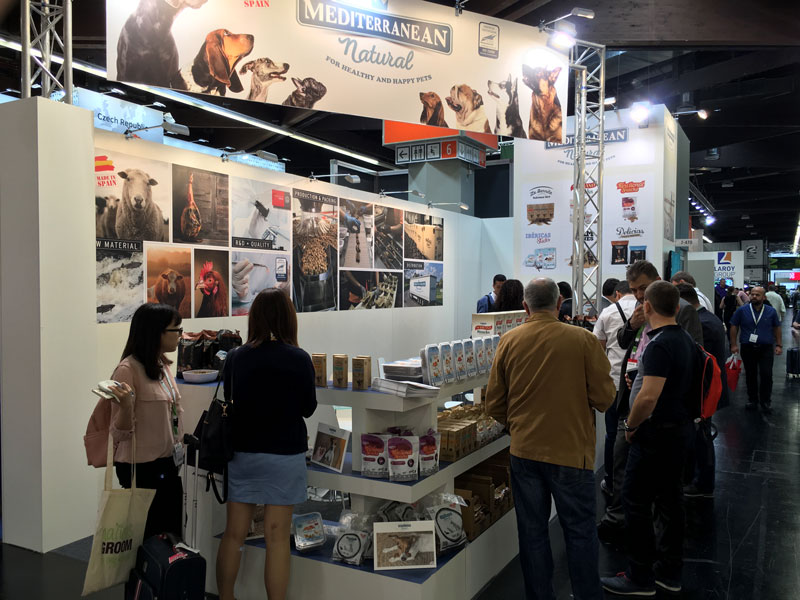 June 13, 2016
At the end of May Mediterranean Natural presented its new products for dogs at Interzoo 2016, the largest trade showfor pets. Would you like to know how was this event? We have prepared a video for you!
115,000 square meters of exhibition space, 1,818 exhibitors from 61 countries around the world, 39,000 visitors from over 90 countries and a market (the products for pets) of 92 billion euros. These are the statistics of Interzoo 2016.
Mediterranean Natural was at Interzoo (the largest fair of products for pets), exhibiting and presenting its new products 2016: bones and pig ears 100% natural, semi moist dog food and snacks (gluten free and colourants free, with fresh meat and fish, protein of high biological value and acredited formulas by the Department of Physiology at the University of Murcia). Products made with raw materials of Spanish origin in Guardamar del Segura (Alicante).
Personal interviews were held with more than 100 professionals from 36 different countries that showed special interest in the new range of products of the Spanish brand (a number that is surpassed if we consider all visitors that visited the stand during the four days of the fair, attracted by the range of Mediterranean Natural food and snacks for dogs).
This show has helped, not only to publicize the new Mediterranean Natural products, but to evaluate new trends and establish ourselves as manufacturers of products for dogs at the forefront of international market requirements.
There was also time to enjoy with customers and Friends: in the Mediterranean Natural stand we celebrate a snack with wine, serrano ham, cheese and Spanish sausage.
Currently, Mediterranean Natural contributes towards the happiness of dogs all around the world by working in 21 countries all over Europe, as well as Israel, Hong Kong and Thailand.
Do not miss this video: we bring you images of the show and our experience in it (with a furry visitor surprise, We love it!).
We are still working to make your dog happy! Mediterranean Natural, for healthy and happy pets!