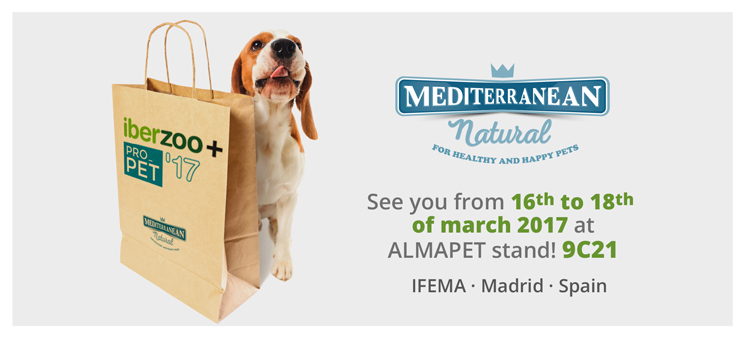 March 6, 2017.
From 16 to 18 March Mediterranean Natural will be at the most important Spanish trade show for pet professionals (stand 9C21-IFEMA-Madrid).
Mediterranean Natural will bring its snacks and semi-moist dog food (La Barrita, Serrano Snacks, Ibéricas Sticks, Functional Snacks, Ham Bones, Pig Ears and Delicias), all gluten-free and without artificial colourants, made with fresh meat and fresh fish using non-invasive techniques to maintain all properties and nutrients, and with improved formulas thanks to the collaboration agreement with the Department of Physiology of the Faculty of Biology (University of Murcia).
Likewise, new flavors will be announced in some of our snacks.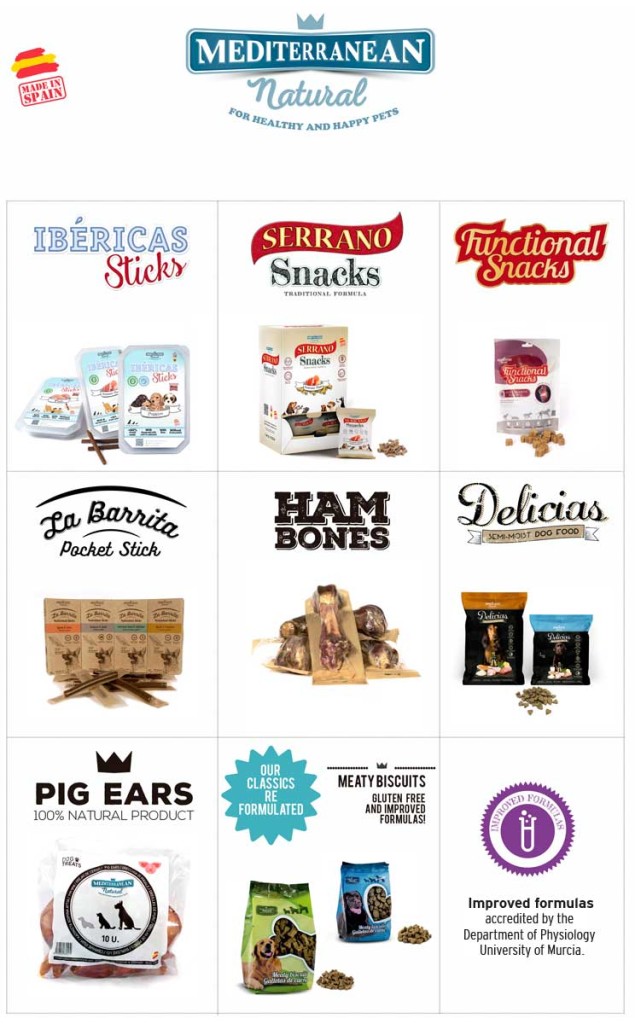 Iberzoo and Propet, the two most important Spanish pet shows, are joining this year in Madrid (Hall 9 of IFEMA), thus responding to a historic demand that benefits the sector as a whole. This will strengthen the possibilities of business, formation, meeting and knowledge.
In this way, it concentrates in a unique event a year to all the professionals of the pets world: manufacturers, distributors, importers, specialized trade, veterinarians and professional of clinics, trainers, canine stylists, laboratories and any company that directs its products and services to this professional sector.
The trade show is the perfect showcase for the latest news from the pets world and will gather the latest proposals of the main brands in equipment and products for the specialized trade as well as everything related to the field of Veterinary.

In addition, will be celebrated the XXXIV VETMADRID Congress, the Iberzoo + Propet Forum, the Nutrition Forum, the Canine Styling Show, the Iberzoo + Propet Boutique Gateway, the Iberzoo + Propet Boutique showcase and diferents training workshops.
Until this 2017 call, in which Propet and Iberzoo are united in a unique fair, Propet celebrated 9 editions and in the last of them (2016) was attended by 367 companies from 47 countries, of which 157 were direct exhibitors and received 16,127 professionals from 29 countries. Iberzoo celebrated 6 editions and in the year 2015 had the participation of 124 exhibitors and companies represented and received the visit of more than 8,400 professionals from 15 countries.
If you attend Iberzoo + Propet 2017 do not hesitate to visit Almapet stand (9C21) and get to know all the snacks and dog food Mediterranean Natural presents this year.
If you prefer to have your appointment arranged with our staff prior to the visit to the event, do not hesitate to contact us at the following email address: marketing@mediterraneannatural.com
See you at Iberzoo + Propet 2017!