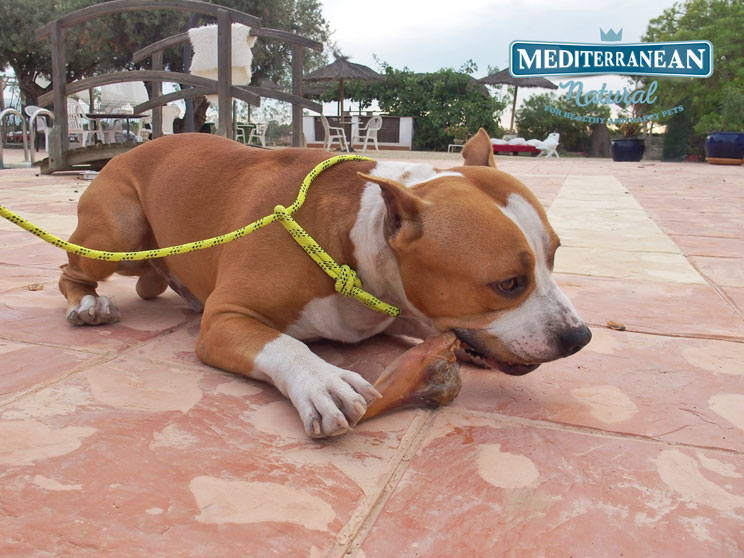 The Nutrition Research Group of the University of Murcia, at the request of Mediterranean Natural, has carried out a study of resistance to the breakdown of our Ham Bones. Our goal has been to evaluate the safety of our Ham Bones for dogs and offer a natural product, minimizing the risk of splintering.
In our effort to offer our customers top quality products, we have carried out a study, in collaboration with the University of Murcia, in order to check if our Ham Bones are sufficiently resistant and safe to the breakage and the splintering caused by the Pressure exerted by the jaw of a dog on the bite.
A great Dane, corpulent dog, enjoying his Ham Bone Mediterranean Natural.
For the manufactured of Ham Bones, Mediterranean Natural selects serrano ham bones of Spanish origin. Our suppliers are important and recognized professionals in the human food sector. We visit them regularly and there is a constant and fluid communication that allows a comprehensive quality control over the raw material. In addition, during the manufacturing process, we pursue at all times to get a natural, nutritious and safe product.
The problem of consuming other type of bones is they could be  easily splintered when the dog bites them and, if you swallow some of these small pieces, there is a possibility that they may damage your digestive system.
Based on the fact that the risk of splintering always exists, in Mediterranean Natural we have worked for months on this aspect and, thanks to our production system, we have achieved to minimize the splintering risk.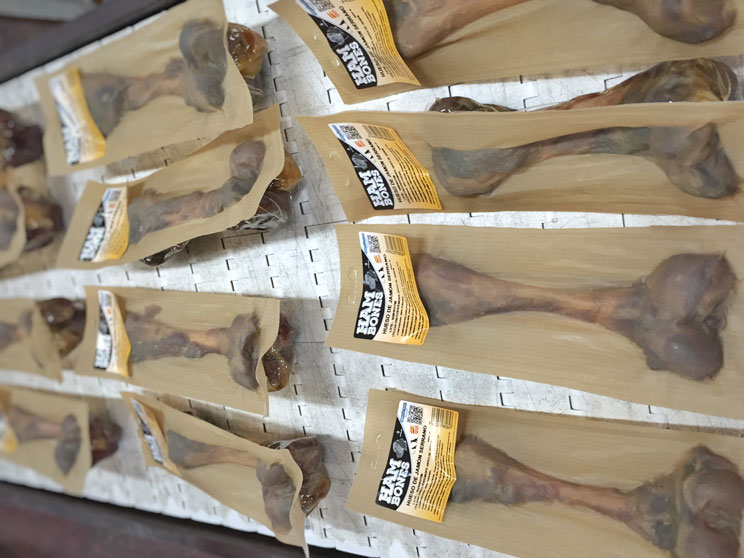 In the image, Ham Bones of Mediterranean Natural after its vacuum packaging.
Mediterranean Natural bones do not boil, thus avoiding their softening, and are less vulnerable than other bones to splintering. In addition, they undergo a drying process, which does not destroy their nutrients, so that our products retain all their nutritional properties intact.
The Nutrition Research Team of the Department of Physiology at the University of Murcia has analyzed the results of resistance to breakage and offers a report that quantifies the resistance of our Ham Bones to dog bite. You can check it below: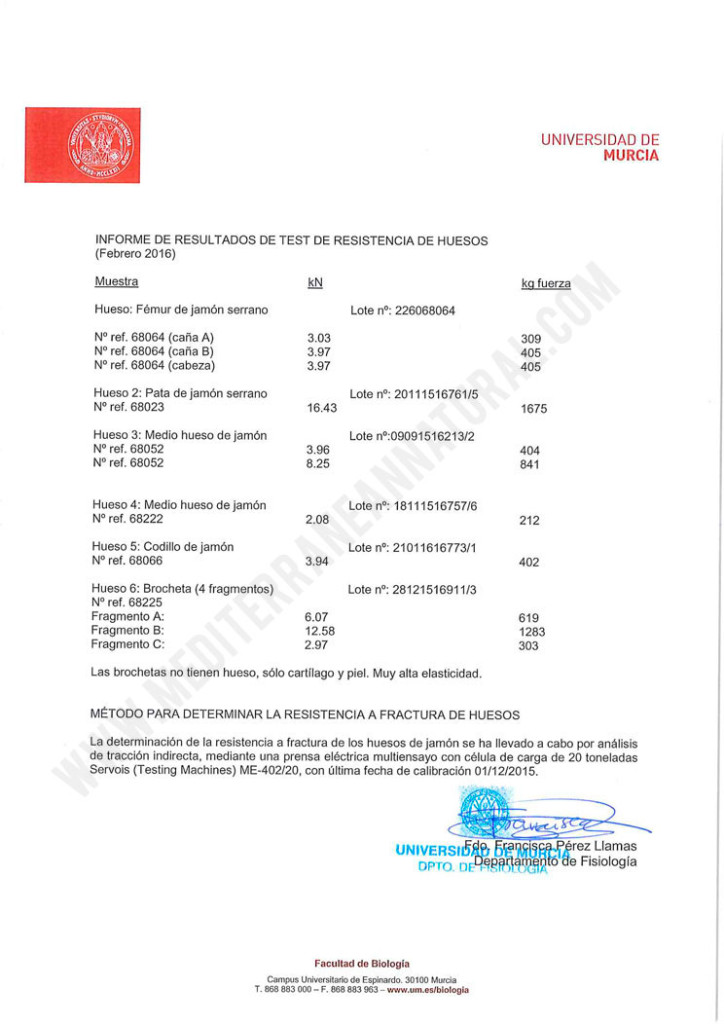 In the review of the scientific literature by Picó Peris (2007), it is described that the bite force is conditioned by the dog's race, size, age, gender and cranial morphology. This same author concludes that, by selecting a large group of large dogs with powerful heads, maximum numbers of 200 to 250 kg force are obtained in the bite; If you also consider the preparation capacity (training of the dog to increase his aptitude), maximum figures can be obtained around 300 kg force.
This means that dogs with the strongest jaws could exert a force on the bone of between 200 and 250 kg force and, if they train this ability, would reach up to 300 kg force.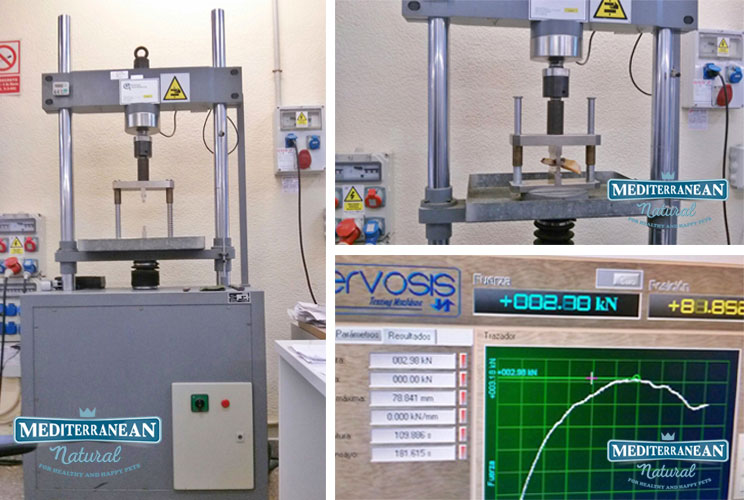 In the image, different moments of the resistance study of serrano Ham Bones done by the University of Murcia with a multitest electric press.
Therefore, according to the results of the report certified by the University of Murcia, and according to our recommendations (in our website and in the product itself, where we indicate the suitability of each variety of dog bone according to its size) That the Ham Bones of Mediterranean Natural are a safe product for pets, provided they are administered under such recommendations and under the supervision of an adult.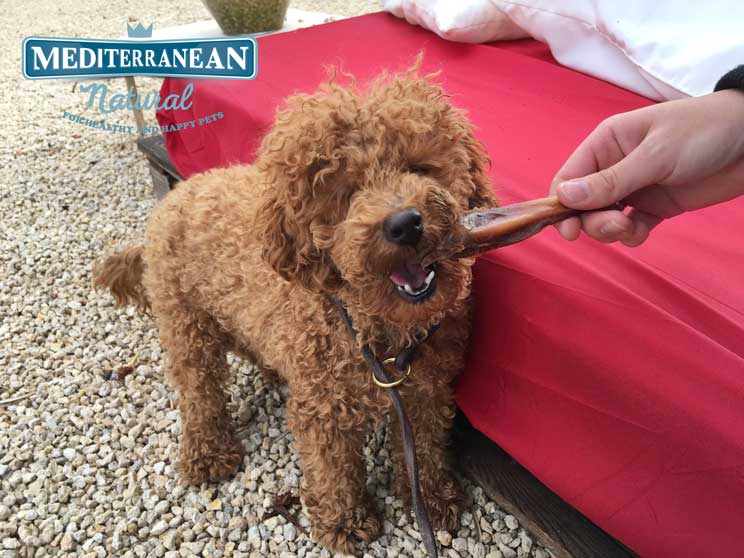 Smaller dog, such as the Toy Poodle, can also enjoy the Mediterranean Natural Ham Bones. For them the small Ham Bone is a good choice.
The Ham Bones of Mediterranean Natural should be given to dogs older than 4 months and are presented in the following varieties: serrano mega meaty ham bone, serrano ham bone, serrano ham knuckles, serrano mini ham bone, serrano ham trotter, ½ serrano ham bone (1 and 2 pc).
Finally remember that, as we have noted, there is always a risk of splintering, which Mediterranean Natural has managed to minimize. If this occurs, remove the small pieces immediately before the dog can ingest them. Also, we should never give a bone smaller than a dog's mouth.
If you want to buy our Ham Bones or sell them at your specialized store, click here to our online shop. To find out about shops near your home where to find Mediterranean Natural Ham Bones, send us your postal code to marketing@mediterraneannatural.com and we will reply you as soon as possible. Thank you!