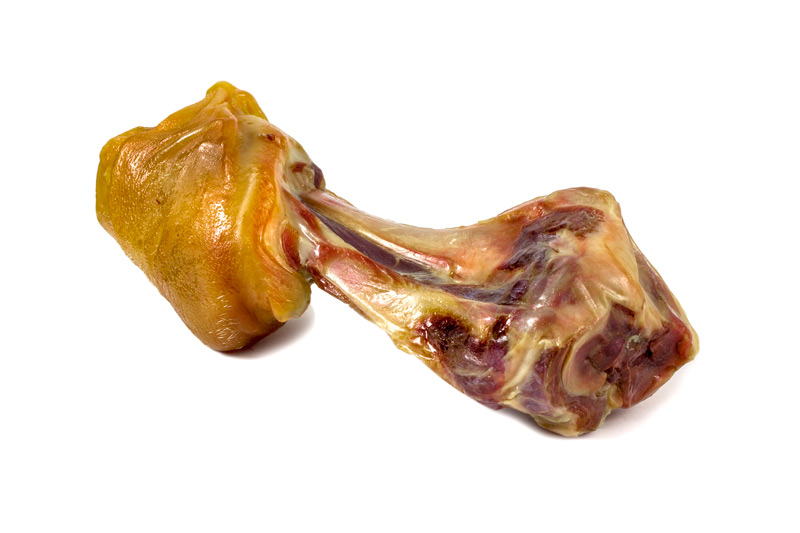 Mediterranean Natural Serrano Ham Bones are submitted to a natural drying process and afterwards they are vacuum seal. By this way they do not suffer any alteration until they are consumed by your pet. But, what happen if by a blow or rubbing it loses the vacuum? Here we explain what bone should buy and you to detect which are in optimal conditions for consumption.
Raw material of high Quality.
Mediterarranean Natural only use high quality raw material products, we keep in touch with our suppliers visiting their facilities very often.
Mediterranean Natural Ham Bones are a natural product made in Spain with many benefits such as: meat of high quality rich in vitamins B1, B3 and B6, oleic acid, proteins and minerals such as iron, zinc phosphorous and potassium. Low cholesterol and low fat content.
They also are ideal to reinforce the dog's teeth and remove tartar.
Vacuum seal to preserve its properties.
When the serrano ham bone arrives to our facilities, it is submitted to a natural drying process to maintain its nutritional properties. By this way we avoid that the product could suffer and then could be splintered easily once it is chewed by the dog.
Once the Serrano Bone is dried it is seal in vacuum, so, the product does not suffer any alteration till the dog chew it. The expire date is the one which is printed in the packaging if the vacuum is not lost.
Then it is packed and protected to avoid any possible damage during the transportation.
What happen if the bone loses the vacuum?
Although all the security measures and controls done by our Quality Department, occasionally (a percentage lower than 1.5% from total production) due to blow or rubbing during the transportation time the bone could loses the vacuum and then it exposed to external conditions which could caused oxidation, mould or deteriorate few days after.
As an example: what happen if you buy a food product for human consumption and the packaging is not in right conditions? Obviously the food is deteriorated. So, the same happen to the Serrano Ham Bones for dogs.
Any producer can guarantee 100% security on vacuum lost till the product is consumed.
A product which suffers deterioration (packaging or product) is removed from the market immediately: Mediterranean Natural Quality Policy include that any product of our brand which is not in right conditions must be removed and replaced for another.
How to know if a bone has lost the vacuum?
Although all shops have instructions from Mediterranean Natural that they must removed any deteriorate product.
In the case you find a Serrano Ham Bone from Mediterranean Natural with loose plastic, do not buy it. You should give it to the shop personnel and they will replace them.
If you do not detect the vacuum lost at the moment you buy the product and you see it at home, do not hesitate to come back to the shop and ask for a new one in right conditions. Mediterranean Natural will replace it to shops.
We show you two images: the first one the Serrano Ham Bone is in right conditions and the second picture has lost the vacuum. Note that when the product loses the vacuum, the plastic is separated from the ham bone.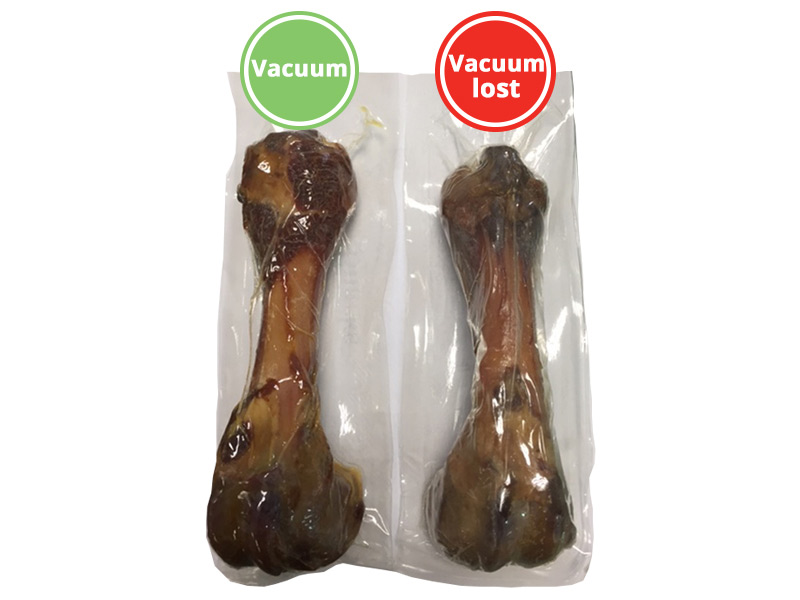 Mediterranean Natural takes care of our dogs as a family member and for that reason your dog health is the most important to us.
Remember that ham bones  always should be given to dogs under the supervision of an adult and that different bones for dogs of different sizes. Never the bone must be smaller than the dog's mouth.
We work hard to evolve continuously, improving our facilities, product formulas and production processes. For that reason, we are a confidence brand for millions of customers over 21 countries worldwide.
Thank you to trust in our band and in our job.
If you have any doubt, or wish any further information about our products you could contact us by mail: marketing@mediterraneannatural.com it will be a pleasure to attend you.