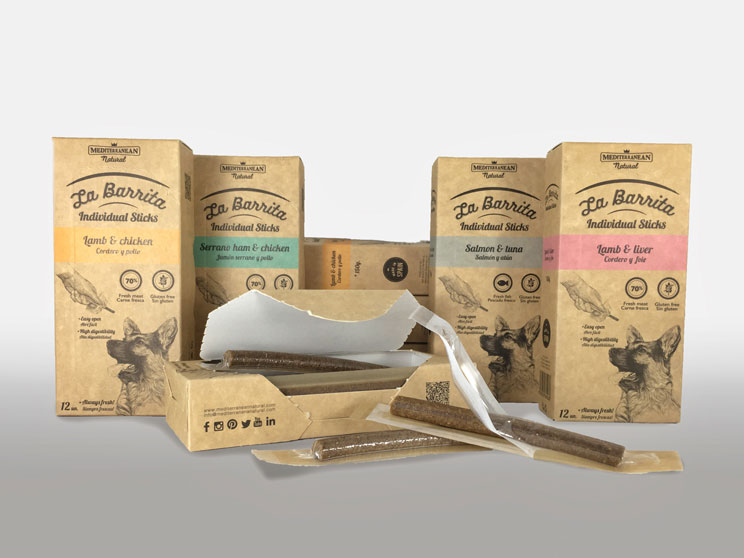 Semi moist and gluten free sticks for dogs, made with fresh meat and fish and individually vacuum packed. La Barrita retains all its properties and nutrients and does not stain or odorless.
Raw material
La Barrita of Mediterranean Natural is made with more than 70% of fresh meat (lamb, foie, chicken and serrano ham) and rice (it is a gluten-free snack).
In addition, La Barrita of fish contains fresh salmon and tuna.
The raw material is selected for its quality: we know our suppliers and maintain with them a continuous and regular contact.
La Barrita is a premium stick and it does not contain artificial colourants and is enriched with oregano oil, which facilitates its digestibility. It is a GMO free and Trans Fatty Acids free product.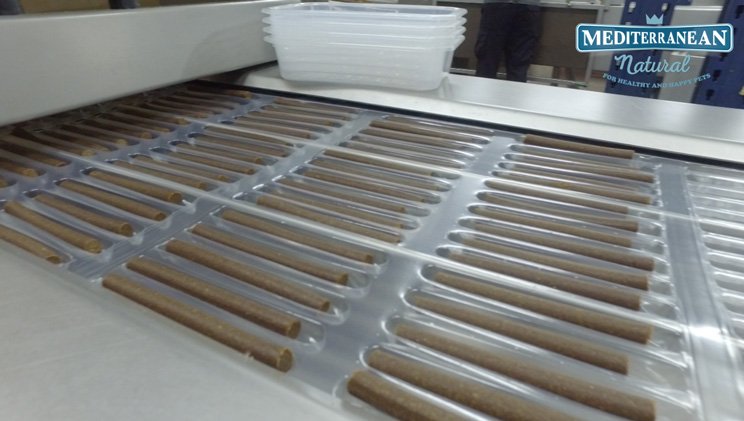 Manufacturing process
The fresh raw material reaches the Mediterranean Natural facilities in Guardamar del Segura (Alicante) and baked at low temperatures (70 ° C) slowly and intensively. So all their nutrients and flavor are maintained.
La Barrita is a healthy and very digestible snack because, thanks to its careful process, denaturation of the protein (high biological value) is avoided.
When meat and fish are cooked, they are incorporated to the other ingredients (rice, oregano oil), cooked and subsequently formed into stick to the resulting mass.
The formulation of La Barrita, like the rest of snacks that manufactures Mediterranean Natural, is supervised and certified by the food research team of the physiology department at the University of Murcia.
Enjoy this video about the manufacturing process of La Barrita:
Wrapping, packaging and distribution
La Barrita is subjected to quality control and metal detection and It is packed individually vacuum. Thus it retains all its properties and nutrients to the time of consumption by the dog.
In addition, individual packaging can carry in your purse or pocket comfortably on walks with the pet, because not stain or smell off.
La Barrita is presented in boxes of 12 units. There are four different flavors: salmon and tuna, lamb and liver, lamb and chicken, serrano ham and chicken.
Once the product packaging, packed and protected for not damaged during transport.
La Barrita is a snack highly valued by our customers, both for its quality and its usefulness and comfort. Undoubtedly, it has become one of the Mediterranean Natural favorite treats for pets.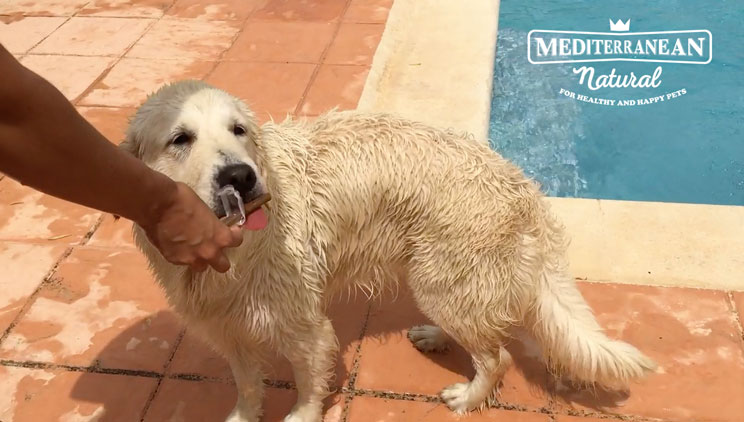 Know you this Mediterranean Natural product? Do you want to know more about La Barrita? If you need more information please write to marketing@mediterraneannatural.com Happy to assist you!