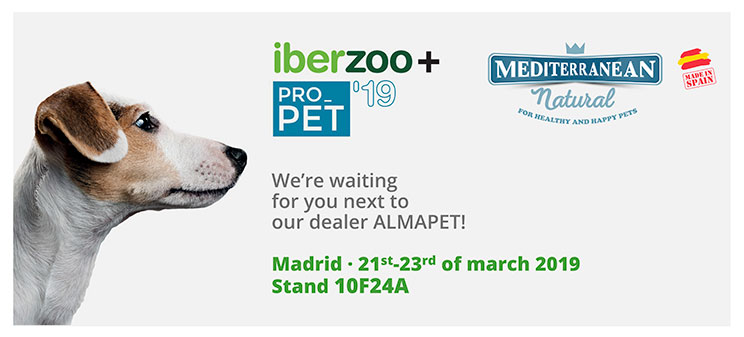 March 12, 2019.
From March 21 to 23, Mediterranean Natural will be at the most important Spanish trade show for pet professionals (stand 10F24A-IFEMA-Madrid).
One more edition, the Mediterranean Natural team will show its products to all professionals visiting Iberzoo + Propet with Almapet (distributor of the brand in Madrid): Food and snacks for dogs and cats made with premium raw materials and Spanish origin, from the human food chain and gluten free, artificial colourants free, GMO free and trans fatty acids free.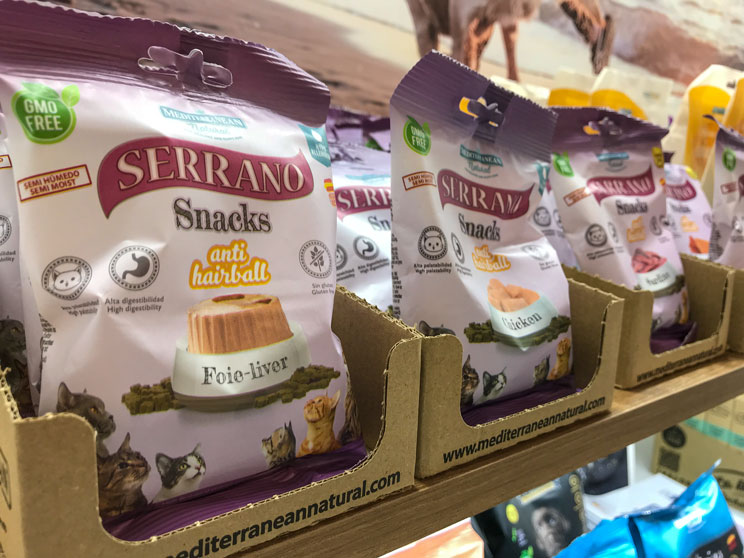 As already happened at Interzoo 2018 (Nuremberg-Germany), the stars of this exhibition will be the three new products range that Mediterranean Natural has prepared to satisfy the most demanding dogs and cats: Functional Snacks and Tapas Gourmet for dogs and Serrano Snacks for cats.
Next to them will be the rest of the range of snacks (Serrano Ham Bones, Serrano Snacks for dogs, La Barrita and Ibericas Sticks) and semi moist food (Delicias for adult dogs and puppies) of the brand.
Mediterranean Natural is accredited with ISO 22000/2005 in Food Safety Management and elaborate its products through non-invasive techniques, which keep intact all the properties of the raw material. Both the formulations and the manufacturing process are supervised by experts in animal nutrition of the Department of Physiology of the Faculty of Biology of the University of Murcia.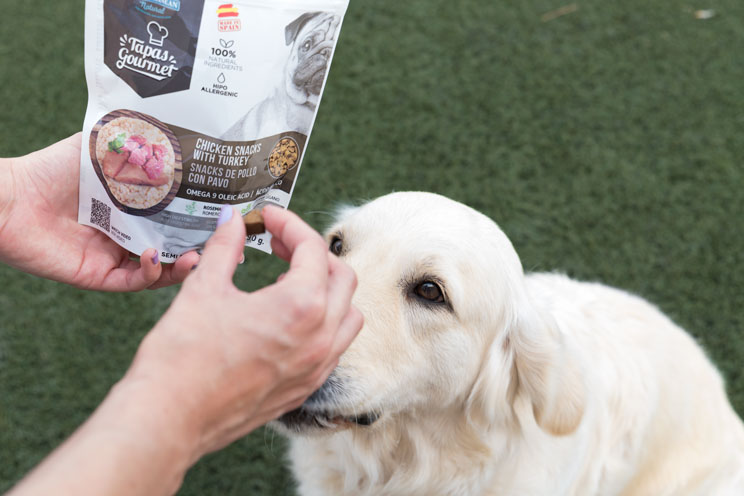 Iberzoo + Propet is the perfect place to get to know the new products for pets and will gather the latest proposals from the main brands in equipment and products for specialized trade as well as everything related to the field of Veterinary.
In the 2018 edition, nearly 500 companies showed their products and 15,732 professionals from 46 countries visited the trade show.
In 2019, during the celebration of Iberzoo + Propet, the 2nd Aedpac Forum of Industry and Commerce of the Company's Animal Sector in Spain, the Veterinary Classroom-Scientific Forum and the XXVI Vetmadrid Congress will also be held, which will bring together veterinarians and national and international experts, among other activities.
If you attend Iberzoo + Propet 2019 do not hesitate to visit us at stand 10F24A and get to know all the snacks and food for dogs and cats that Mediterranean Natural presents this edition.
If you prefer to have your appointment arranged with our staff prior to the visit to the event, do not hesitate to contact us at the following email address: marketing@mediterraneannatural.com
See you at Iberzoo + Propet 2019!