Dr. María José Frutos is part of the Research Team in Nutrition that collaborates with Mediterranean Natural in the improvement of production processes and formulation of our products for dogs.
In the previous post we present to Dr. Salvador Zamora Navarro and Dr. Francisca Pérez Llamas, members of the team of experts of the Department of Physiology of the University of Murcia who work with Mediterranean Natural in the quality control and development and innovation of our snacks and semi-moist dog food.
As we announced, let's get to know the rest of the team: today we introduce you to Dr. María José Frutos Fernández.
Dr. María José Frutos Fernández
Dr. María José Frutos Fernández is a PhD in Biological Sciences from the University of Murcia.
She was a beneficiary of a Researcher Training Fellowship, completing her doctorate at the Center for Edaphology and Applied Biology of the Segura (CEBAS) of the Consejo Superior de Investigaciones Científicas (CSIC) between 1991 and 1995, obtaining the qualification of Outstanding Cum laude.
She worked as an associate professor at the Polytechnic University of Valencia between 1996 and 1997.
She is currently a Full Professor at the Universidad Politécnica Superior de Orihuela of the Universidad Miguel Hernández de Elche, accumulating 20 years of experience as a teacher and researcher.
She has been deputy director of the Polytechnic Superior School of Orihuela between 2011 and 2016, in charge of quality management and coordination of studies in food science and technology and national and international mobility of students.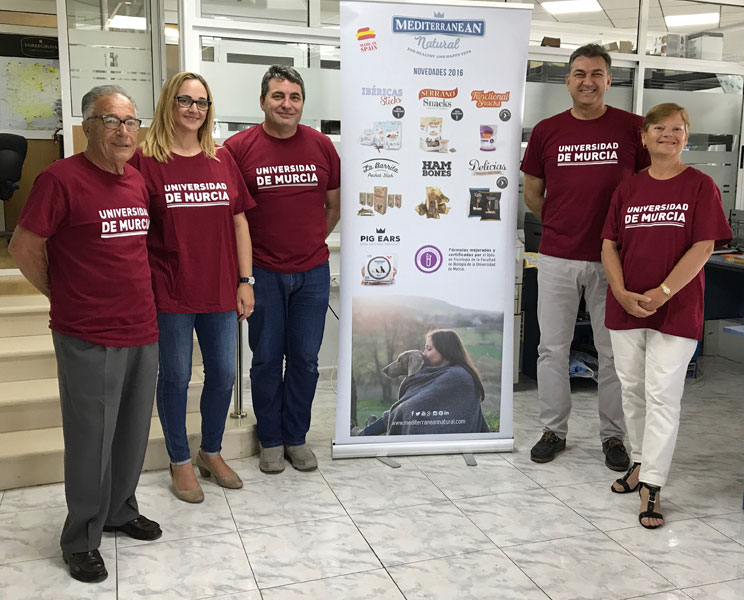 In the image, from left to right, Dr. Salvador Zamora Navarro, Dr. María José Frutos Fernández, Mr. Miguel Luque Moya (General Manager of Mediterranean Natural), Mr. Manuel Torregrosa Andreu (Production Manager of Mediterranean Natural) and Dr. Francisca Pérez Llamas.
She has extensive experience in the international field as a member of scientific committees of experts in the field of life sciences and quality and food safety, working for the European Commission in various research framework programs for the US Department of Agriculture , for the national challenge "High value Nutrition" in New Zealand and for the Ministry of Education and Science of the Russian Federation, among others, evaluating research proposals in different programs since 1999.
Her main teaching area is the biochemistry of food processing and food quality and safety.
She has been main researcher in two international projects funded by the European Commission and in several national projects in the field of functional foods development and quality. Currently she is involved in a research project in collaboration with the Research Institute AgResearch from New Zealand.
She has numerous scientific publications with impact index and book chapters on food technology and nutritional properties of foods.
Her research focuses on the study of bioactive compounds in vegetables and the development of functional foods with beneficial properties. She has also worked on plant extracts with antimicrobial properties.
She currently develops vegetable probiotic foods using different fermentation and microencapsulation technologies. In this area has an international patent on probiotic gel products.
She has also participated as a speaker in meetings, congresses and symposia of international relevance in the area of ​​food technology and nutrition, being member of the advisory committee in the organization of international congresses of the relevance of the "IFT international food congress" ( Institute of Food Technologists in the United States), whose company has been a professional member since 2000.
It also belongs to other prestigious international associations such as ACS "American Chemical Society", "Groupe Poliphènols", European Federation of Food Technologists (EFFoST) and ISEKI Food Association.
Thanks to the collaboration agreement signed with the University of Murcia, Dr. María José Frutos Fernández collaborates with Mediterranean Natural in the formulation of new products and in the production processes. It is fortunate and proud to be able to work with her.
If you want more information about other members of the Nutrition Research Team that collaborate with Mediterranean Natural, click here to meet Dr. Salvador Zamora and here to meet Dr. Francisca Pérez.